"Everything I had imagined and nothing like I expected."
Everything I had imagined and nothing like I expected. Yes, that is the perfect quote to describe the Antarctica expedition a couple of friends and I embarked on back in March 2018. Here is my review to the 7th continent and trip to the bottom of the planet.
Let's just start with the really cute video of penguins chasing each other down a hill, ok?
ARVE Error: Mode: lazyload not available (ARVE Pro not active?), switching to normal mode

Note: Embedded videos in this blog post were shot in 1080p or 4K and posted to YouTube. You can view full versions by tapping the arrow or video title, or view them all in my YouTube Channel: MikeRTW Antarctica
The vision how this trip would go down had been firmly cemented in my head after a full year of planning, yet I still wasn't sure what to expect. I knew we would see penguins waddle next to us and massive glaciers. But that's just the tip of the iceberg that is Antarctica – pun intended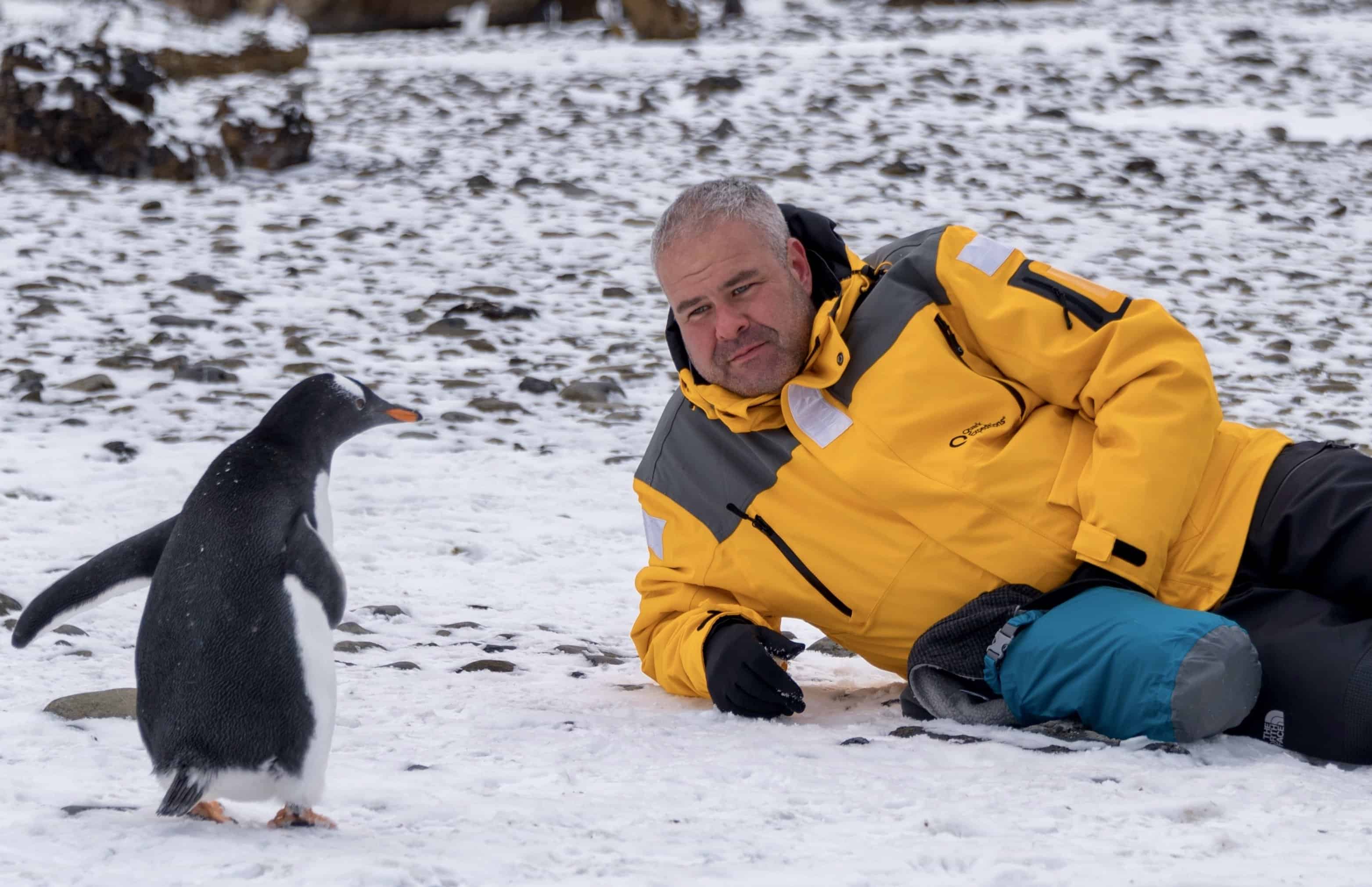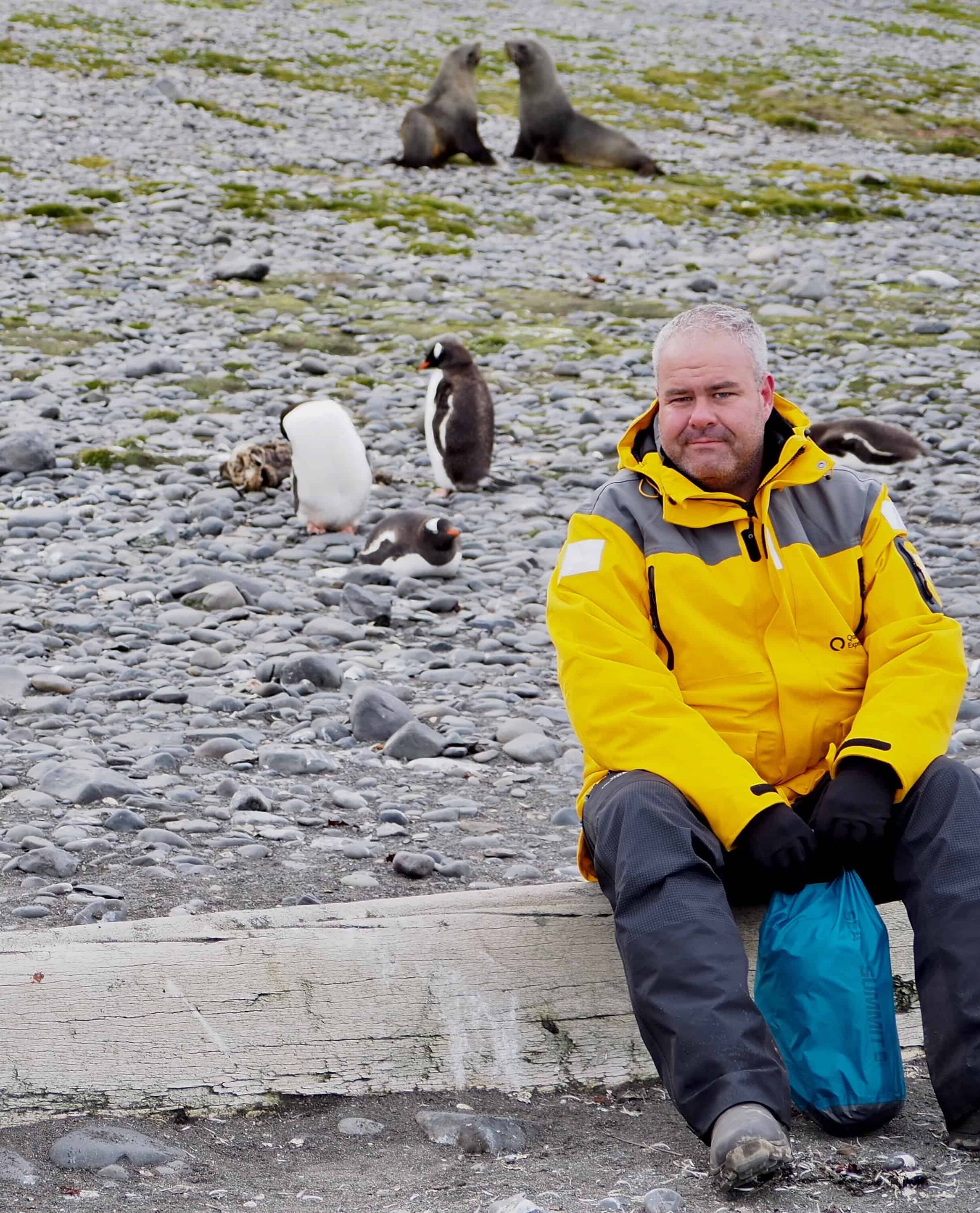 Before I take a detailed dive into the trip, there is one thing that should be repeated merely because many people have misconceptions. The biggest are the logistics: Antarctica, the 7th continent, is the single most inhospitable and rarely visited spot on earth.
You may only go there as part of a scientific mission or as a government employee doing research or some other type of work. Antarctica doesn't have any infrastructure that someone can utilize for tourism or other commercial purposes. You can't just jump on Orbitz.com and book a flight. They don't have towns or cities, or places to eat, or airports or hotels.
I only say this because in talking with friends and family before and after the trip, I think people sometimes heard "Antarctica" and it didn't quite register — so they thought Australia or South America, or even the Arctic, not quite realizing how different Antarctica is from every other place in the world.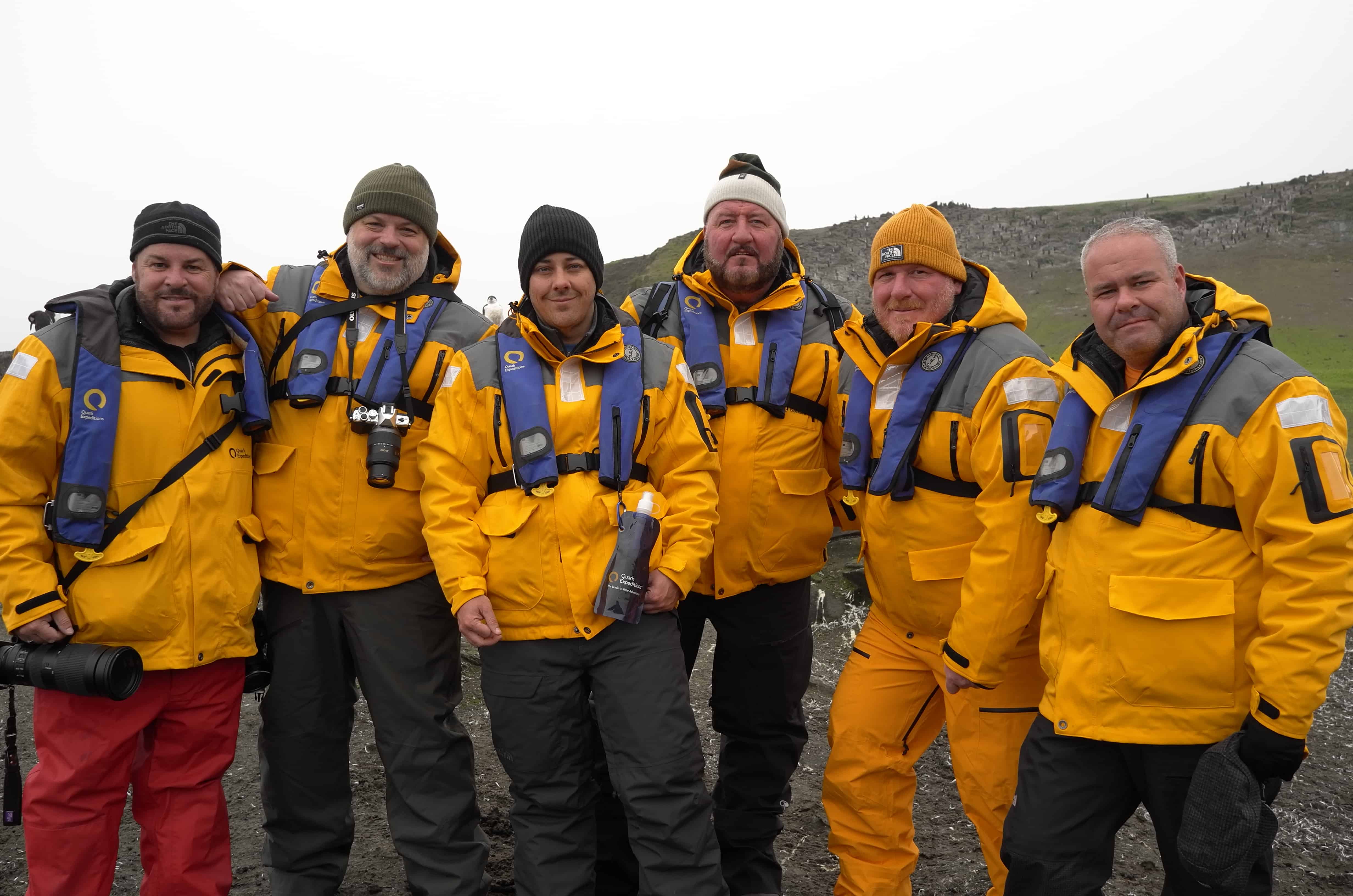 ---
Booking an Antarctica Expedition

We took a Quark Expeditions voyage that is open anyone who is fortunate enough to have some extended vacation time and diligently saved their pennies for years. I'm not going to lie; it wasn't cheap. But what you take home – a genuine appreciation for our planet that will last a lifetime – is absolutely priceless.
For example, we learned that single use plastic items (think: coffee stirrers, straws, etc) are considered by many environmental scientists to be one of the most harmful things mankind has ever invented. Yet almost all of us use these things each day without any thought. I could go on about what we learned on these topics for hours, but I digress and won't bore you with a lecture.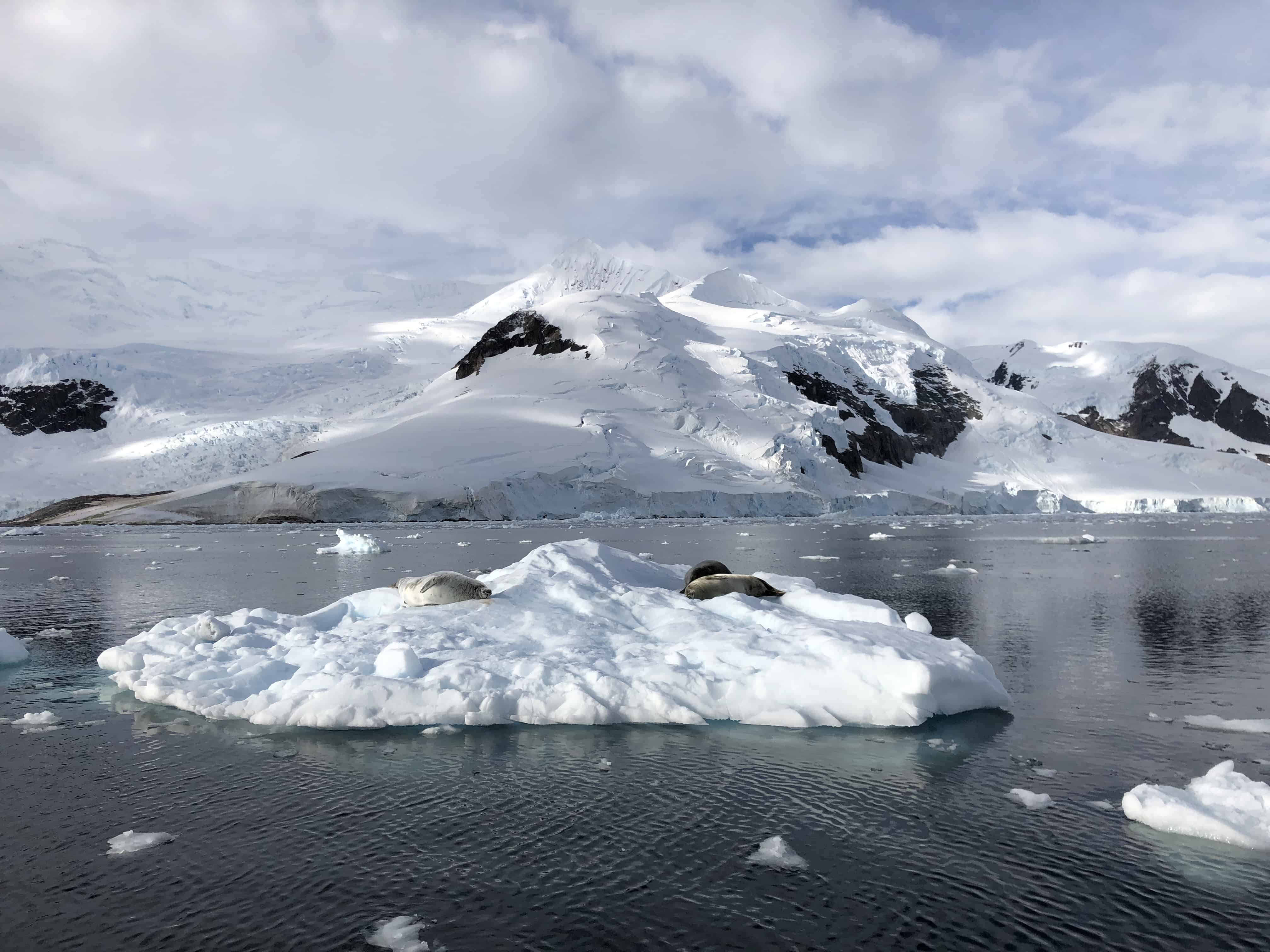 As we came to find out, there was no set itinerary or landing sites. You're at the mercy of Antarctica and Mother Nature. When it comes to Antarctica, she throws everything at you. Dense fog, large sea swells, numbing cold, driving winds, and weather that changes from one extreme to another in an hour.
Add into this trying to navigate a ship around fast moving icebergs that will trap the ship somewhere and you've got a true expedition on your hands.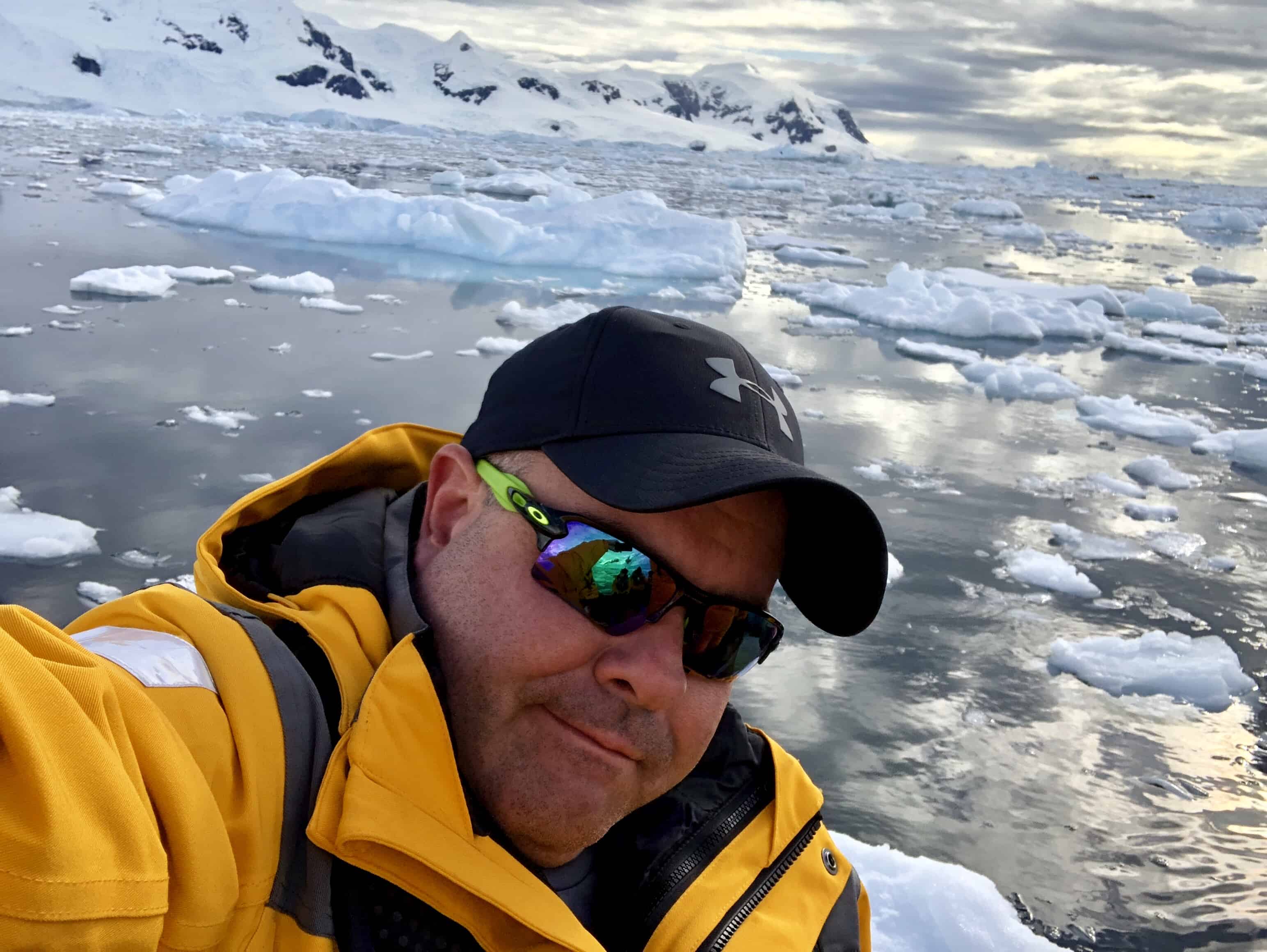 As recently as 2014, a commercial tourist expedition ship just like ours was caught and subsequently rescued. Fast-moving ice blocked it inside a harbor and prevented it from getting out, so the risk is real, and it's no joke. These ships are ice-strengthened which means they can move through already broken up ice. However, they're not ice-breakers, which ride up on top of solid ice and crush it into pieces. Read more here at a CNN news link.
We set out some days with the intention to make a particular location or landing point, only to have to abort for one, two, or all of the reasons above.
ARVE Error: Mode: lazyload not available (ARVE Pro not active?), switching to normal mode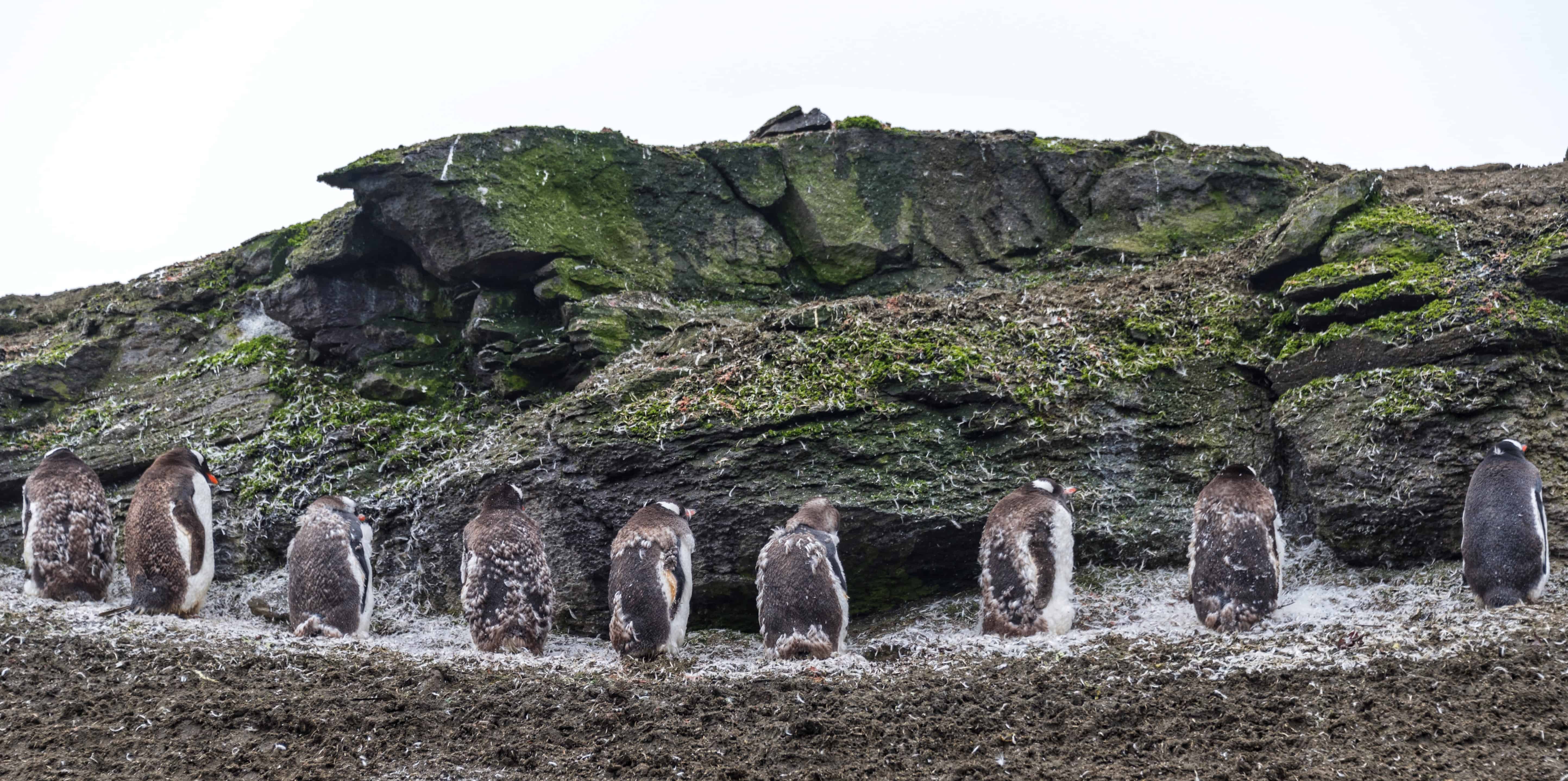 ---
M/V Ocean Adventurer
Our ship was a repurposed Yugoslavian freighter built in 1976. Refurbished in the summer of 2017, it now makes commercial trips down and back on Antarctica expeditions with up to 132 guests on board at any given time.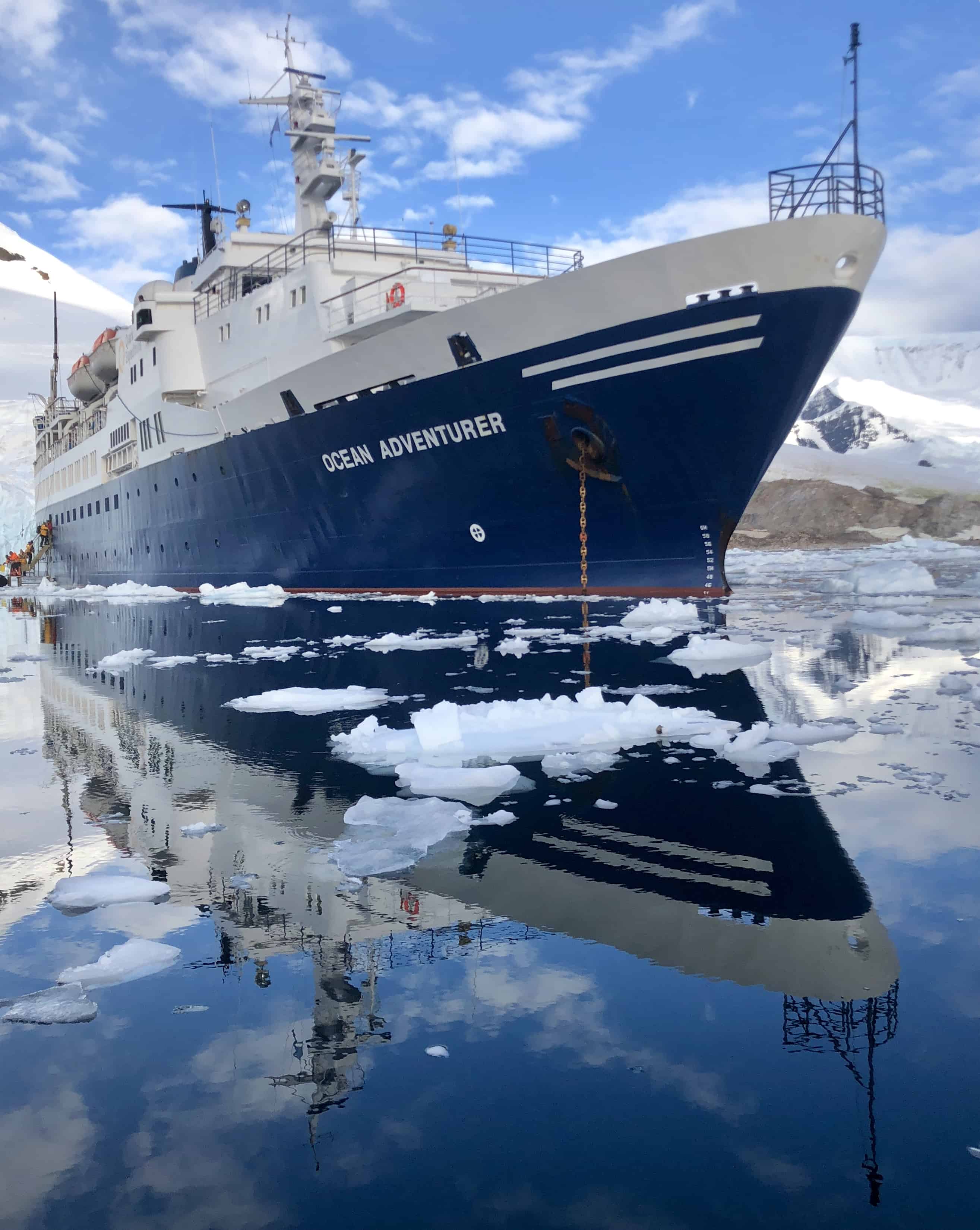 Make no mistake; this isn't your typical cruise ship. No pool or casino or room service. No gym or lido deck or even towel animals. I can't lie, I was at least hoping for one penguin towel animal.
The main deck was one big dining room where we all ate together at the same time (including the expedition crew) and a second lounge type big room where the expedition team held all the lectures and briefings.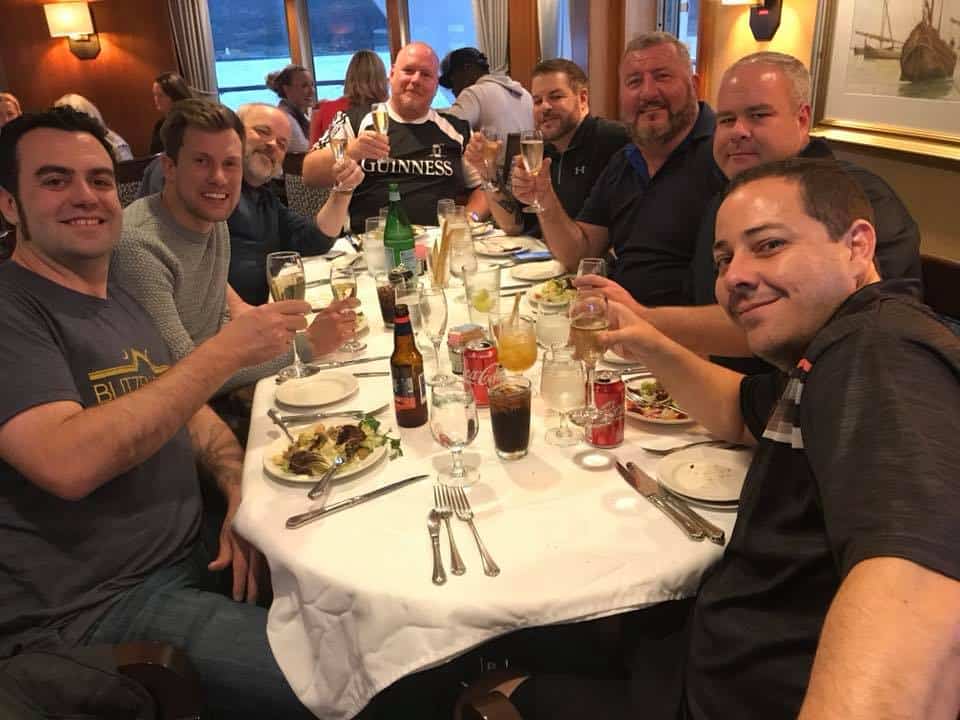 What it did have was a couple of very, very brand new and powerful engines from the recent refurbishment, a 1A ice-strengthened hull, and chairs in the dining room bolted to the floor with chains, so you don't fall out of them when the Drake Passage cranks up the rough seas.
No matter the conditions, you still have to eat and cross the Drake for four entire days, two down and two back.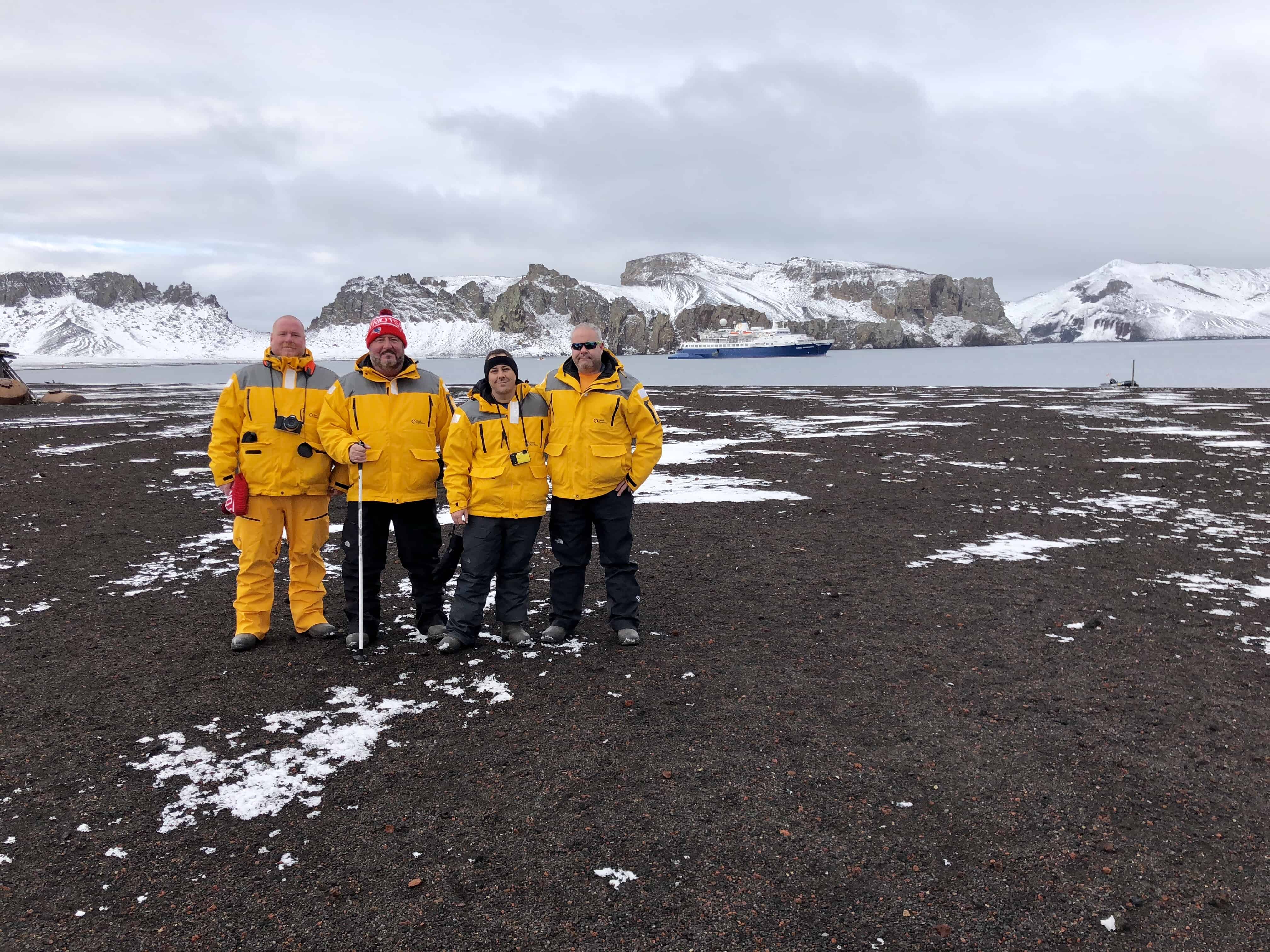 The 132 passenger number is key since the Antarctic treaty dictates that no more than 100 people can land on Antarctica at once. Our small ship had 13 purpose build zodiacs that took teams of 10 ashore at every possible chance. We even had a special scrub room to remove the penguin poop off us before we got back into the ship after each landing.
Many mainstream cruise ships (Celebrity, Princess, etc.) have Antarctica on the itinerary, however, they're just cruising through and looking from afar on the outer decks and balconies. Even if Antarctic treaty law permitted, they don't have the equipment or the facilities for actual landings anyway.
I'm not knocking those cruises – some of the best parts of our trip were the views from the ship passing mountains, icebergs, glaciers, and one time we caught glimpses of a bunch of Orcas (killer whales). A cruising tour of Antarctica will still absolutely provide a lifetime of memories.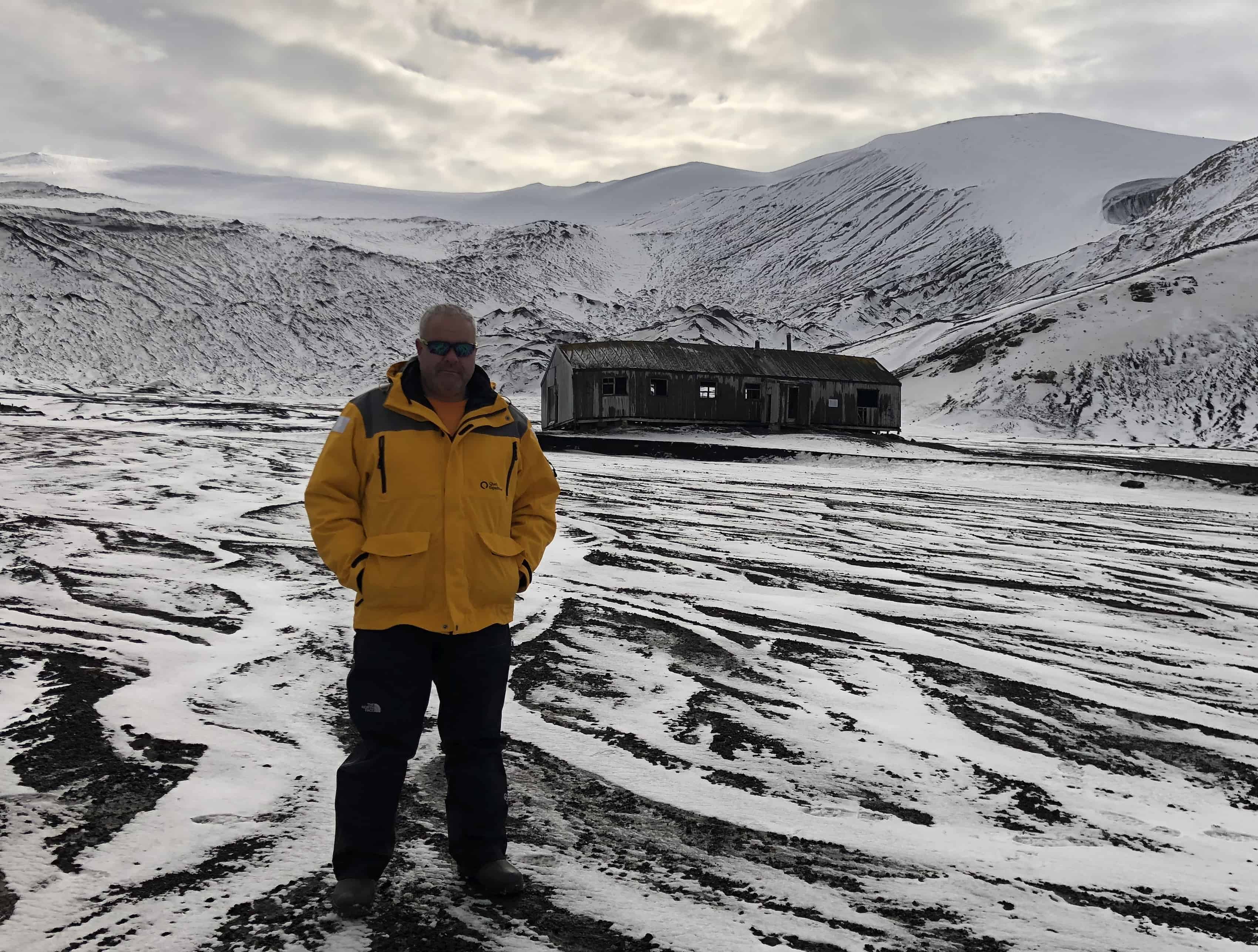 ---
Drake Passage
The roughest sea in the world is where the Pacific Ocean and the Atlantic Ocean meet at the bottom of South America – otherwise known as the Drake Passage. Approximately 1,000 km (600 miles) wide, it happens to be the shortest and only commercially feasible pathway to Antarctica.
"Crossing the Drake Passage is the price of entry for going to the Antarctic. The peace and serenity of the Antarctic are only matched by the turbulence and drama of the Drake. They are two sides of the same coin: you don't get one without the other. The conditions of the Drake are somewhere between bad and terrifying, depending on the weather gods, But worth every moment."
Luckily our experience was relatively moderate. It takes two days to get down and two days back. Out of the four total days, I think the first day of the first crossing was the only rough one. It could also be that I got used to the regular movement after the first night. Don't get me wrong, a lot of people got sick, and there were barf bags lined up on the railings of the ship every six feet.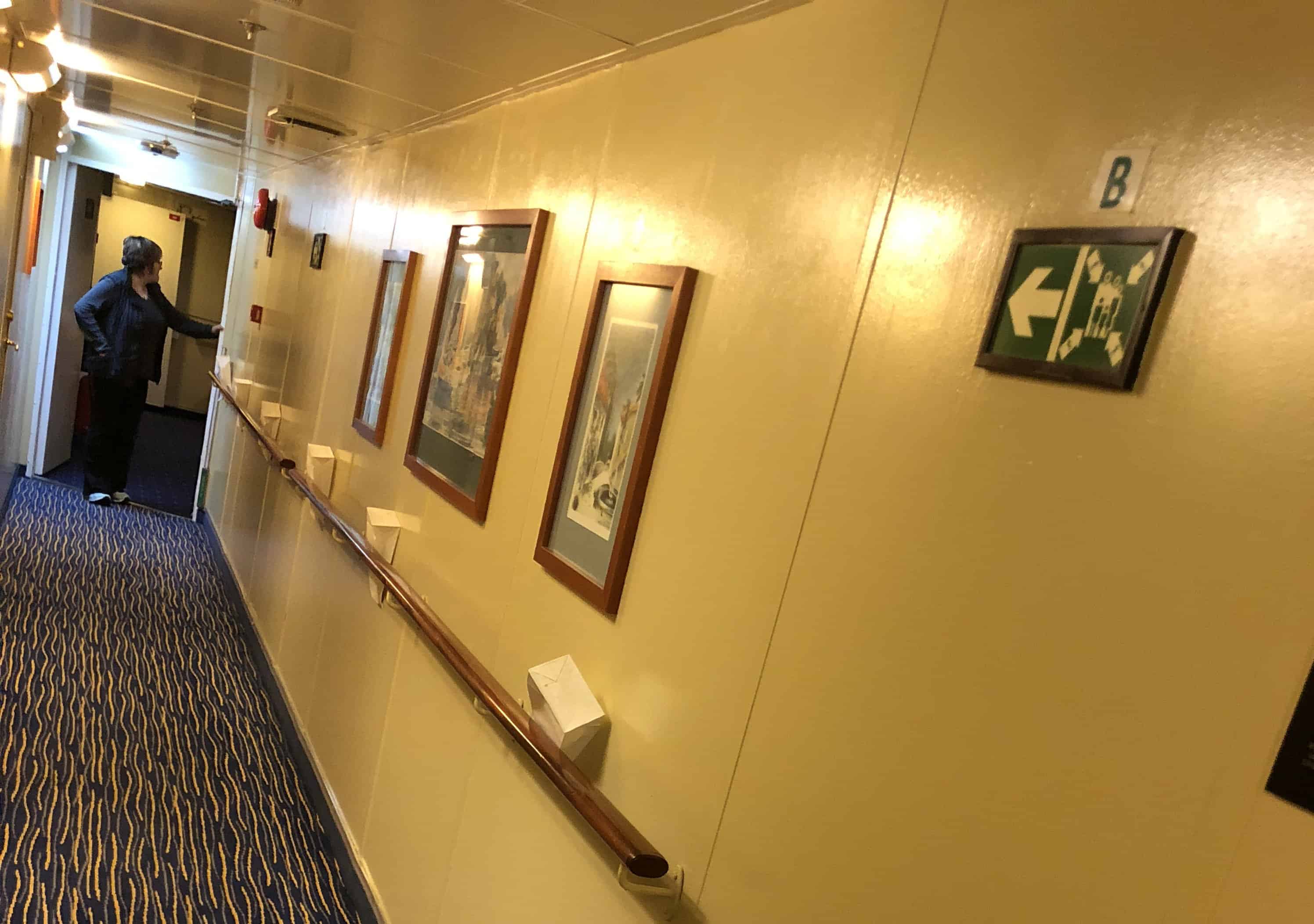 I also had my mishaps too. At one point I flew out of the bathroom, clear across the room, and thankfully landed on a bed before I even knew what hit me.
Later the same day, I went to reach for something, realized the ship was coming down off a huge wave, and instinctively grabbed a closet door handle to stop my fall. My 230 lbs weight proceeded to rip the entire door off the closet hinges taking it right down with me.
ARVE Error: Mode: lazyload not available (ARVE Pro not active?), switching to normal mode

Above is a short video of the bow of the Ocean Adventurer in the Drake Passage going from Ushuaia to Antarctica on Day 1. It doesn't look rough because I was compensating for the movement, but if you keep your focus on the top of the black post at the very front of the ship — and watch it move relative to the horizon — you will notice how it looks like we're moving sideways and even in reverse at some points.
---
Antarctica Expedition Staff
If you made me call out one thing that made this trip spectacular it wasn't even Antarctica itself. Fine, it was Antarctica, of course. But really, it was the expedition crew.
This goes back to the first line of my post. I imagined how this expedition it would be, but it was also still nothing like I expected at the same time. These people (the expedition staff) were there for Antarctica as much as we were. Their passion was palpable. They even got to experience and do things for the first time right alongside us.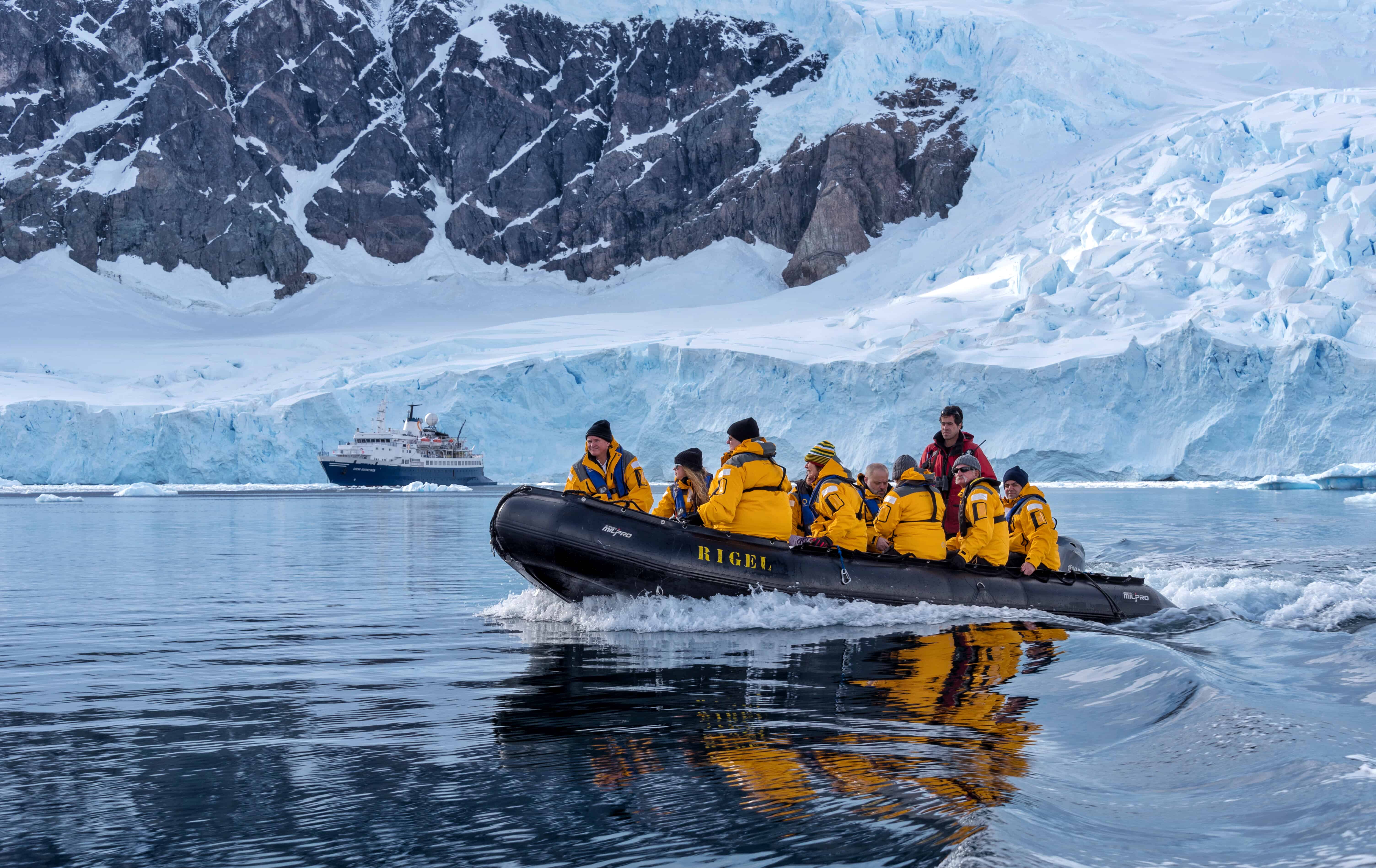 Unlike an ordinary cruise where the crew and the guests are separate, the staff on this ship randomly sat down at different tables at dinner. They walked up to the bar and drank with us in their downtime. They were right there next to us, taking pictures with their own cameras and being as excited as the rest of the passengers.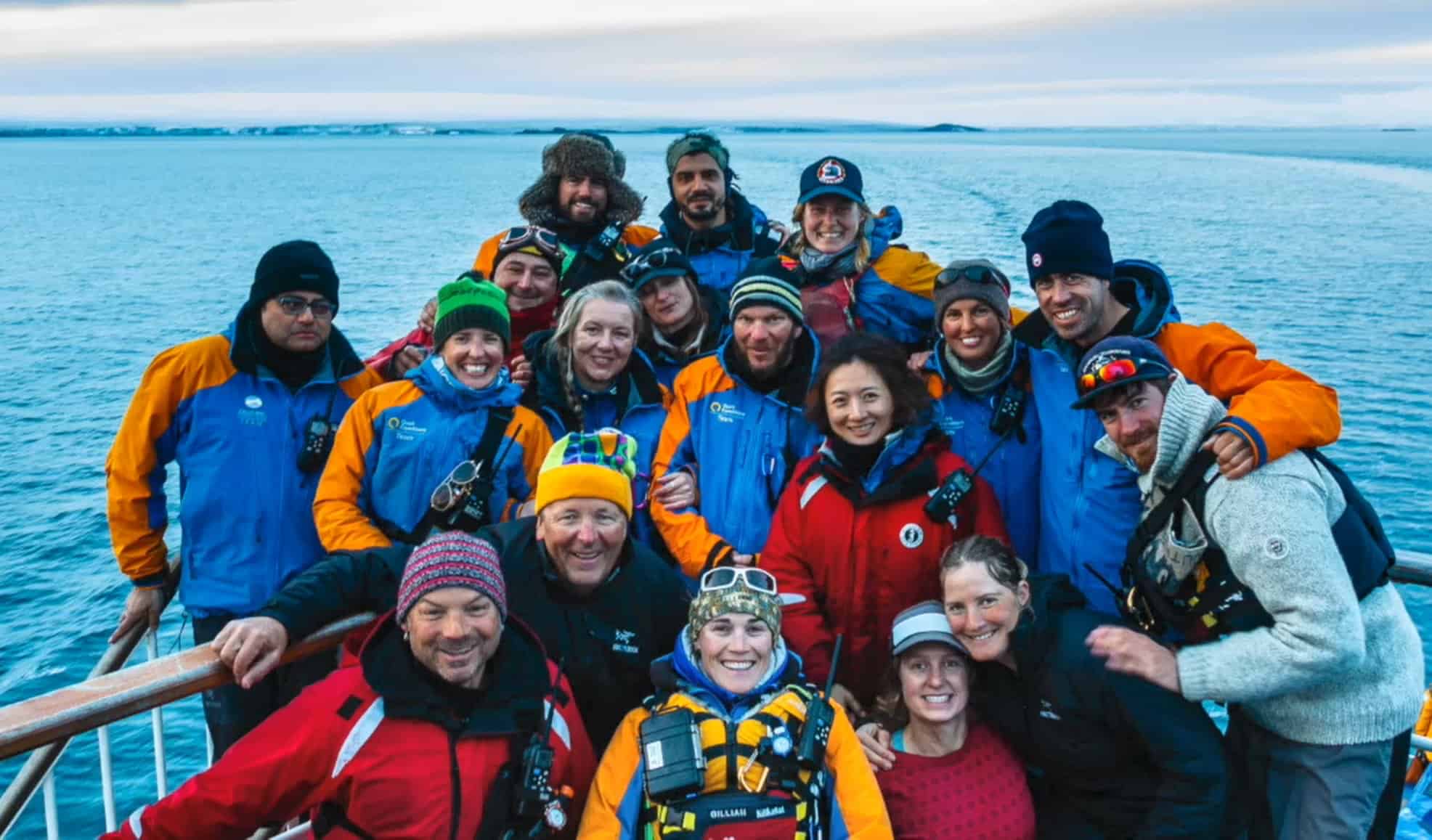 The most vivid example was when Miko, the marine biologist expedition member with a Ph.D. (hint: they're all the best at what they do, and they all pretty much have advanced degrees), stumbled across a pile of 8 or 9 colossal elephant seals partly up the side of a big hill on Livingston Island.
His exact words when we walked over to him were "Welcome to my heaven" as he pointed to the elephant seals. He even had another member of the expedition crew take a picture of him with the elephant seals as a new profile picture.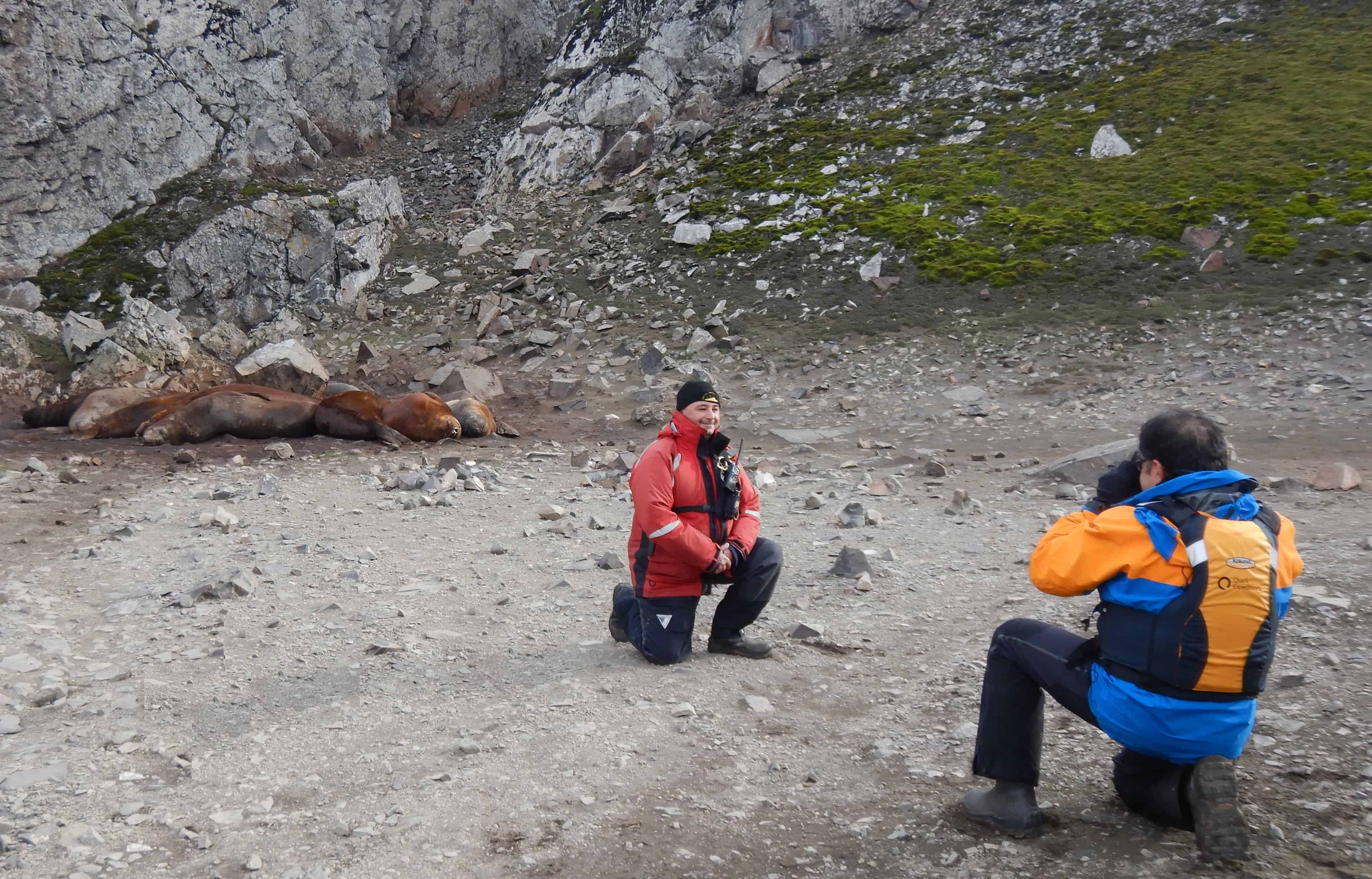 ---
Animals
Wild animals aren't my thing. There, I said it. My primary interest in going to Antarctica wasn't for the animals. It was the scenery, remoteness, landscape, and other elements that piqued my interest. Although we can all admit that penguins are everyone's thing. If there was just one, I was there for the penguins.
All in all, we saw 46 separate species of animals from penguins to albatrosses, to petrels, to whales, to dolphins, to seals. Quark Expeditions does a great job documenting precisely what each Antarctica Expedition encounters and on what days.
Click here to view the PDF document.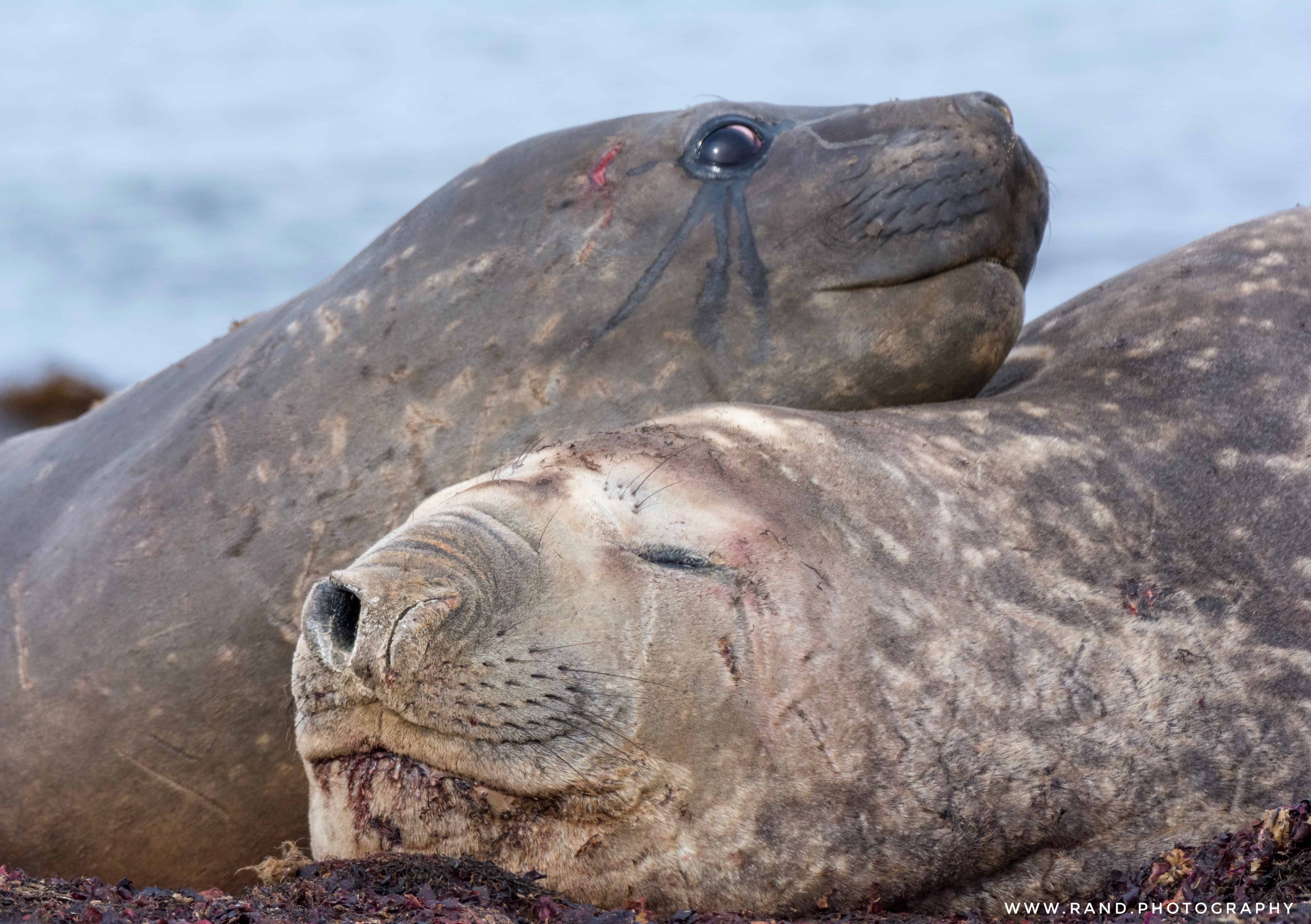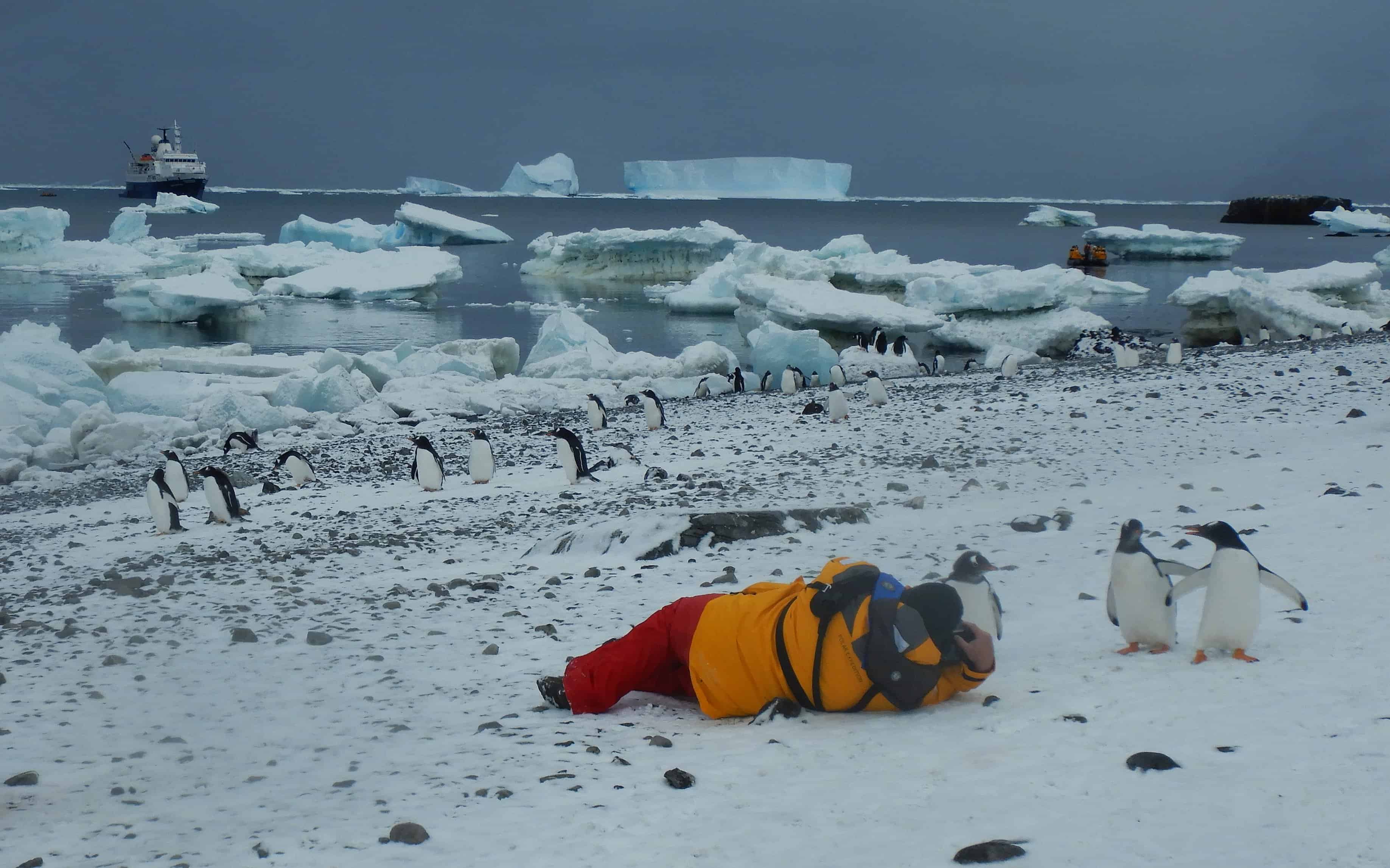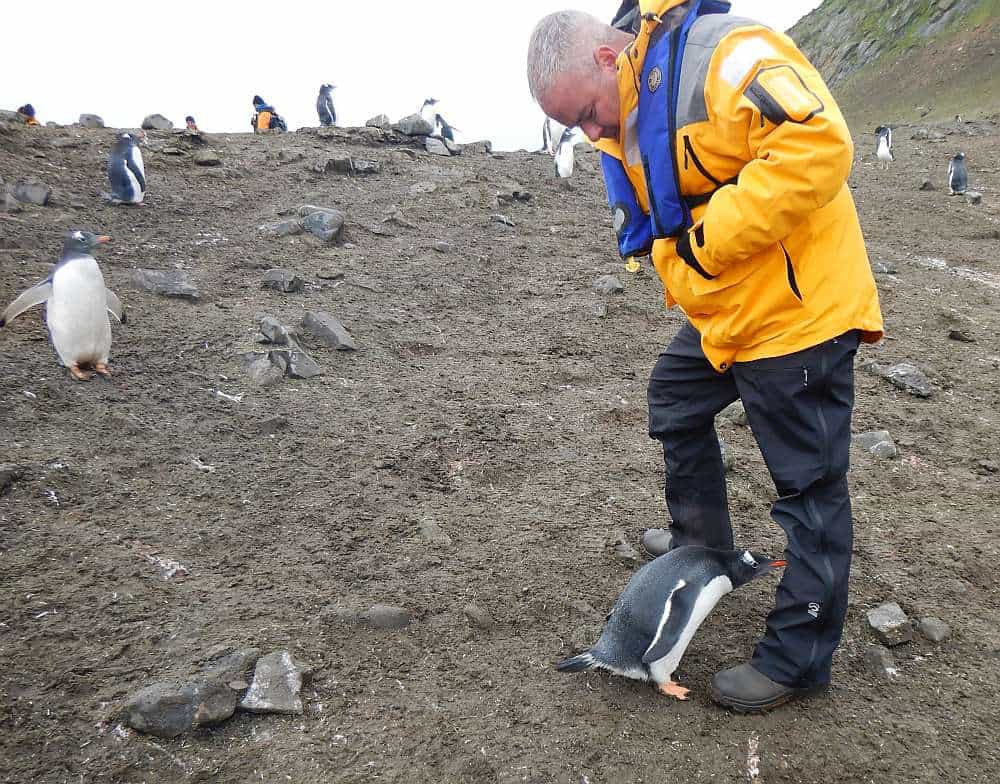 ---
Voyage Log:

About two weeks after we returned, Quark Expeditions followed up with a ton of information about our voyage including some maps that showed the exact path we followed:
Along with the official ship locations, dates, latitude/longitude, temperatures, winds, activities, speeds, and other information: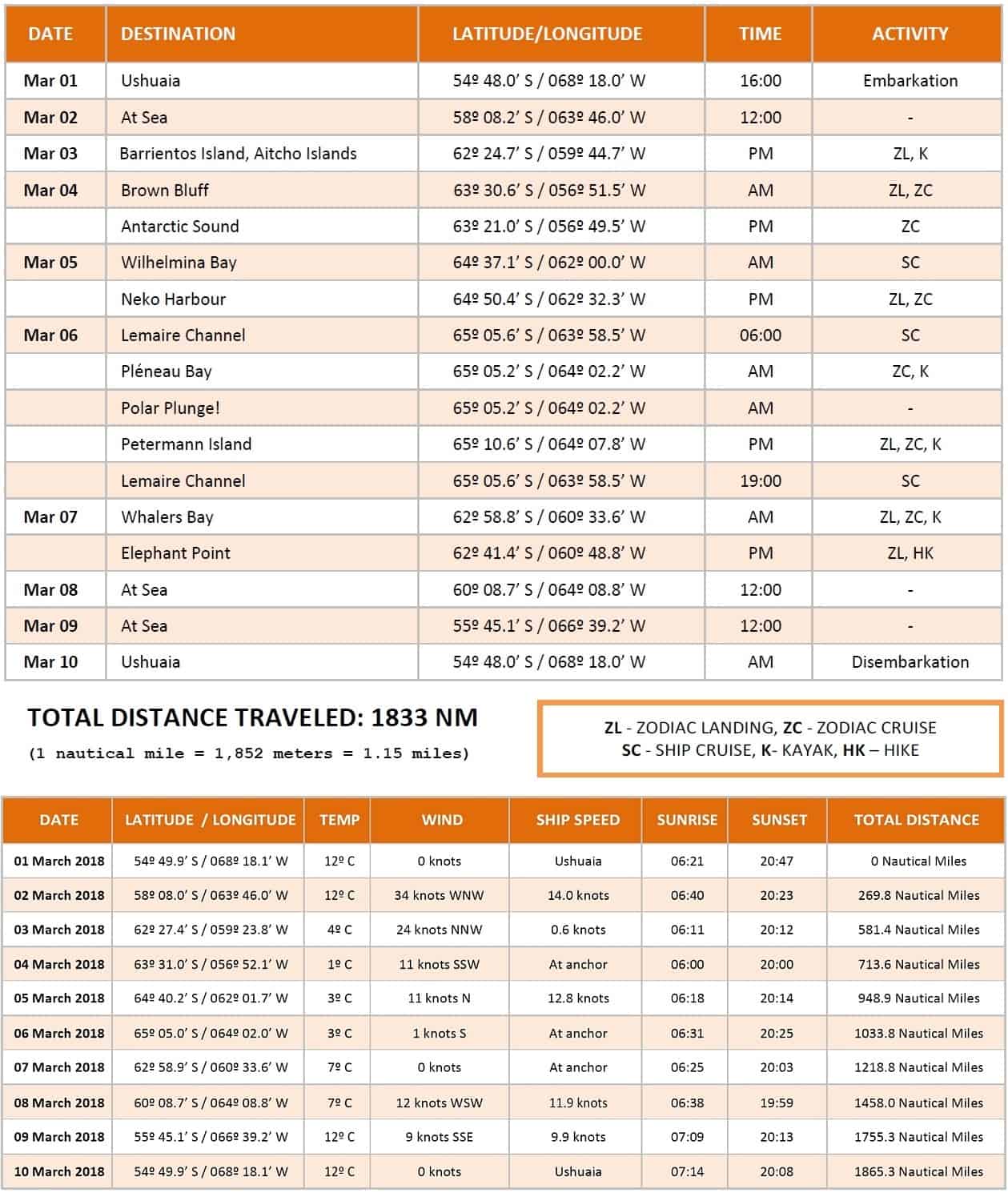 ---
Random Pictures and Facts:
It's hard to write about an experience like this and convey how it impacts you. You leave the ship with so much more respect for our planet and its beauty. That said, I am just going to throw out some random pictures and random facts in no specific order:
There were no locks on the cabin doors. No key-cards. No nothing. From the moment you boarded, it was clear everyone on the ship was now one big family, going on an expedition together to a remote and risky place. I guess there's no need for locks since you're all literally in the same boat — and the person next door to you might be the one who saves your life or vice versa.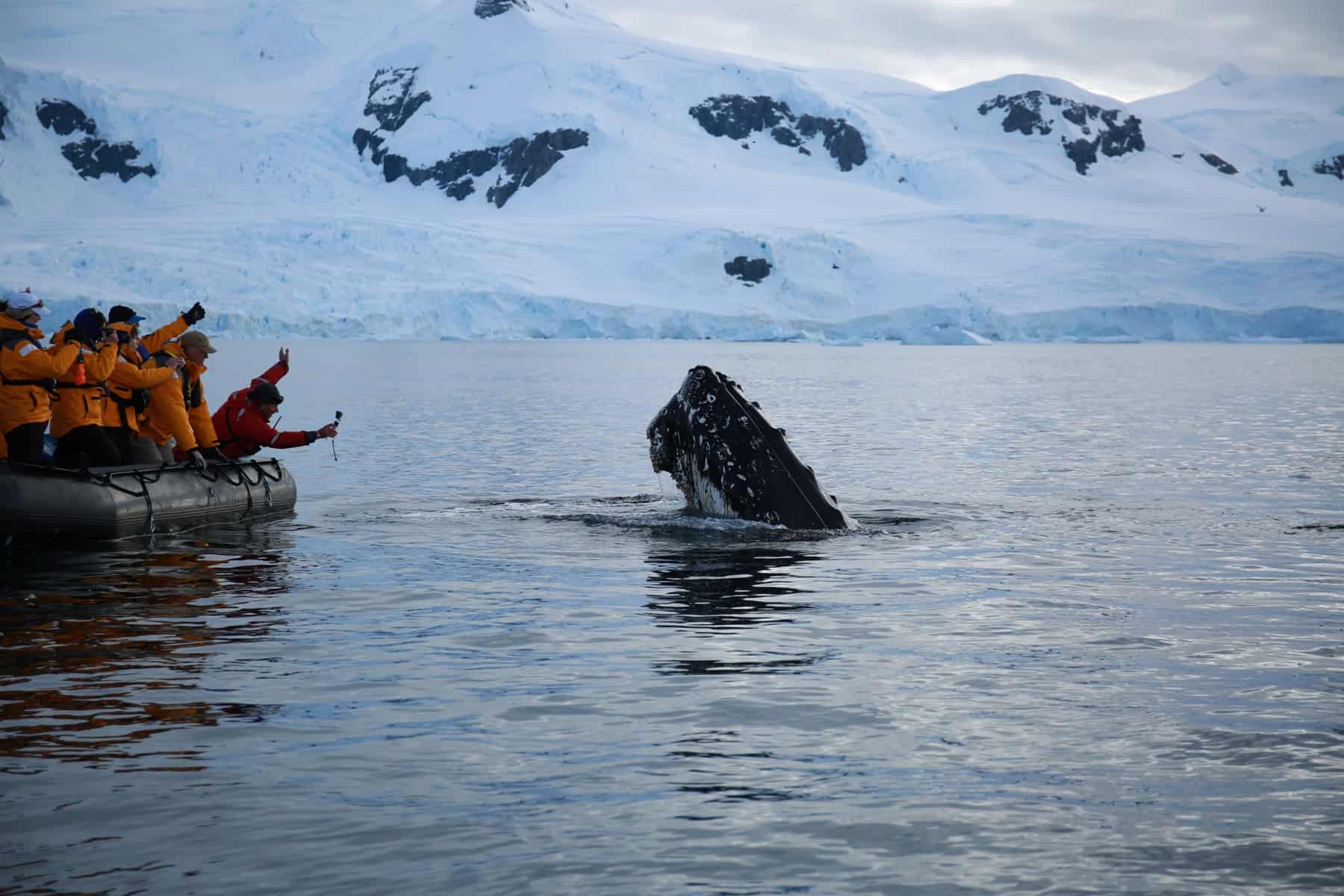 There was a nearly constant "open bridge" policy. Except in times of extreme weather conditions or navigating through narrow channels, the main bridge door was open and unlocked. You were able to walk right in, sit on a bench, and observe the operation of the ship.
If any of the watchstanders or other officers were in a chatty mood, and the captain was not around, they would explain stuff and answer questions. Although based on my experience whenever the captain was present on the bridge, nobody made a sound because he wasn't chatty. 🙂
ARVE Error: Mode: lazyload not available (ARVE Pro not active?), switching to normal mode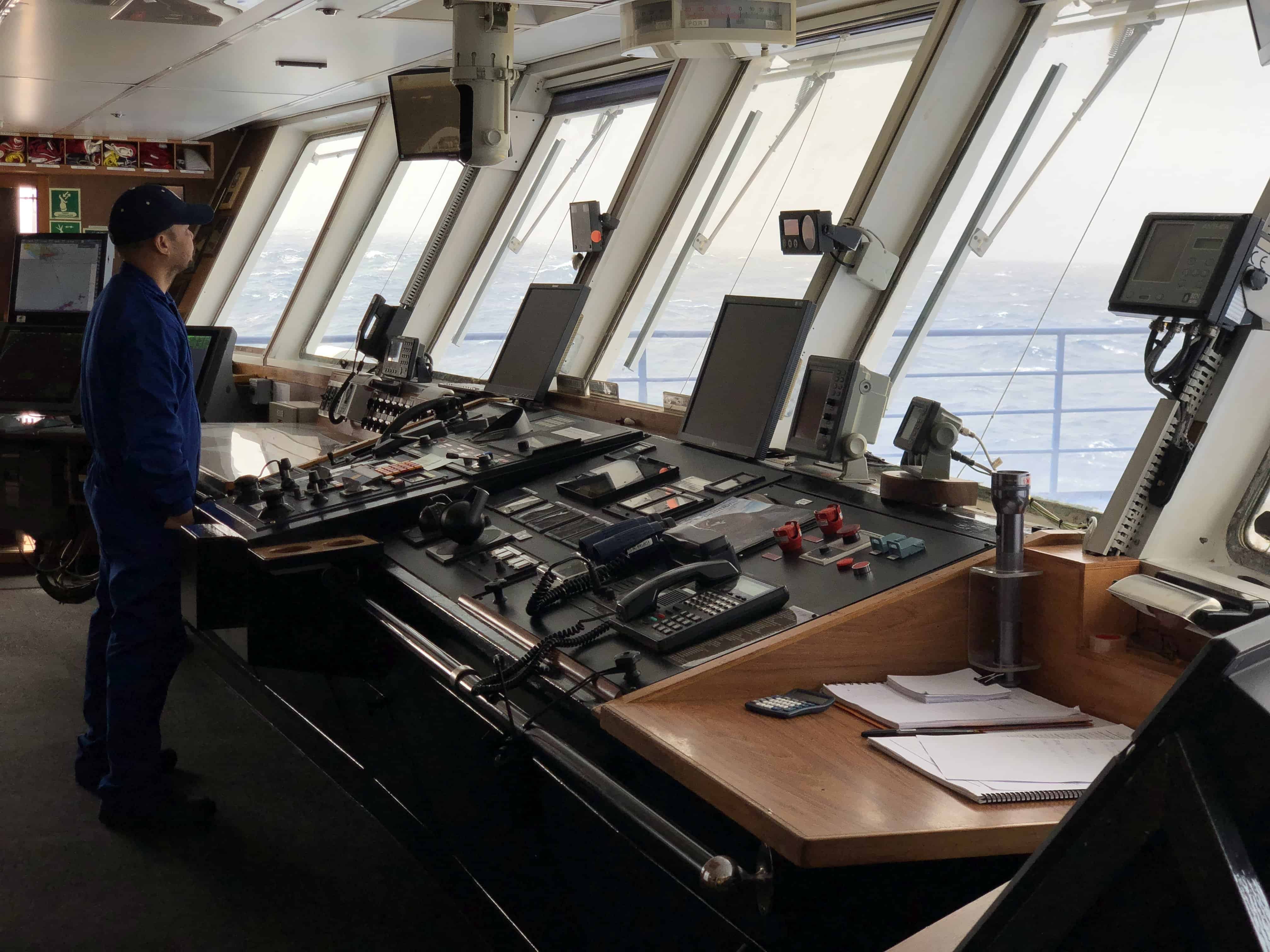 The guest demographic was quite diverse. Everything from a science-loving teenager with his father to a single Iraqi woman who always wanted to travel to all the continents. We met a ton of new and exciting people from every walk of life.
The expedition is set up so that older people can do as much or as little as they want. All while the athletic ones could opt to participate in things like kayaking or hiking a mountain. It was a great balance and a very diverse passenger list.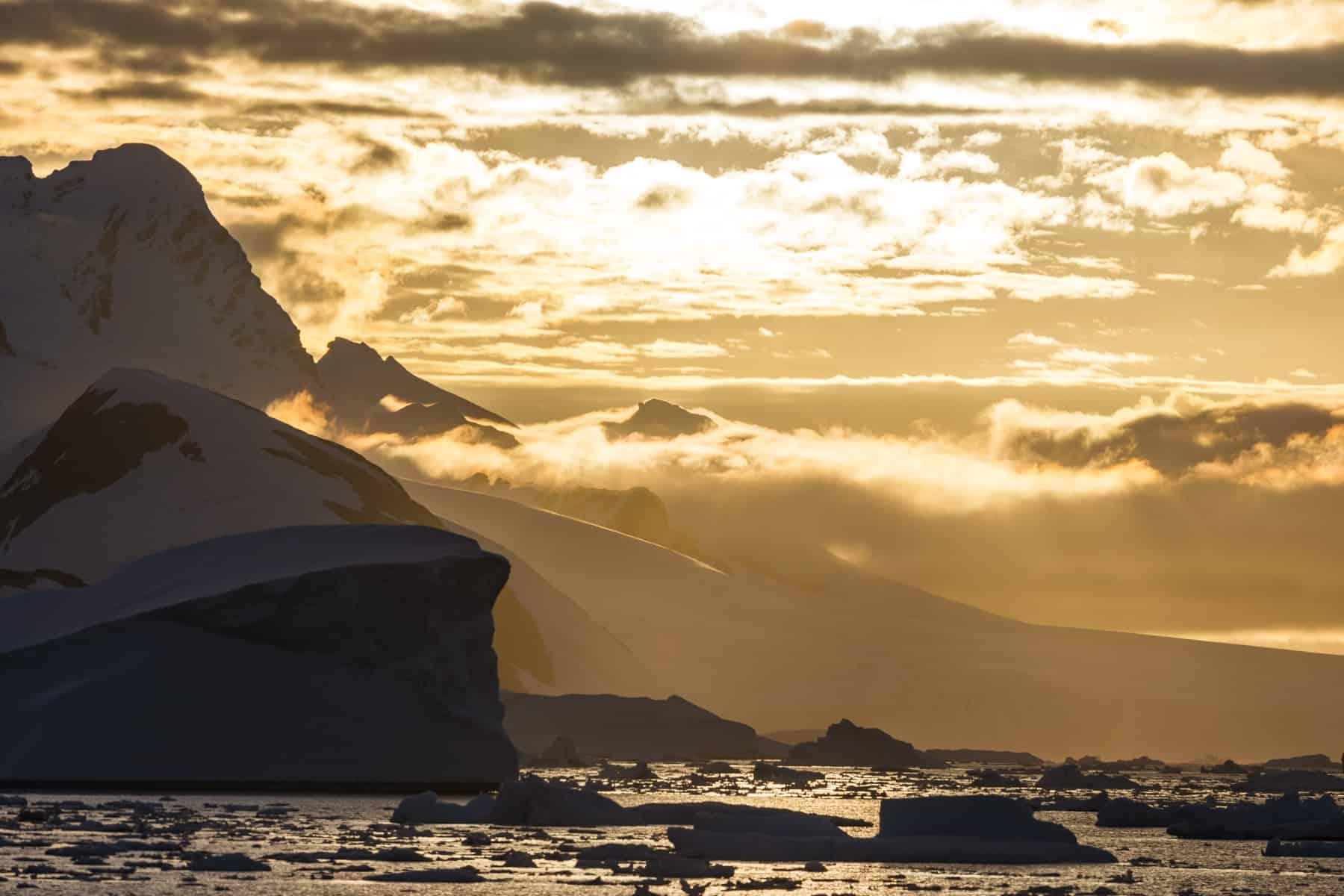 You can't merely stop for supplies or to pick up items you ran out of at the next port. You have to stock everything you think anyone could need for the entire eleven-day expedition. That made for some interesting observations. For example, near the end, we started getting half tomato slices on rather than whole ones. It's just a small fun fact that speaks to how much planning goes into an actual Antarctic expedition with a hundred people.
So, if you're reading this because you found it on a Google search and you're planning on going one day, take everything you think you could need. Looking back, our group probably mostly over-packed. But finding a Target around the next iceberg to grab an extra pair of socks is a bitch.
There is no such thing as over-packing for an Antarctica expedition.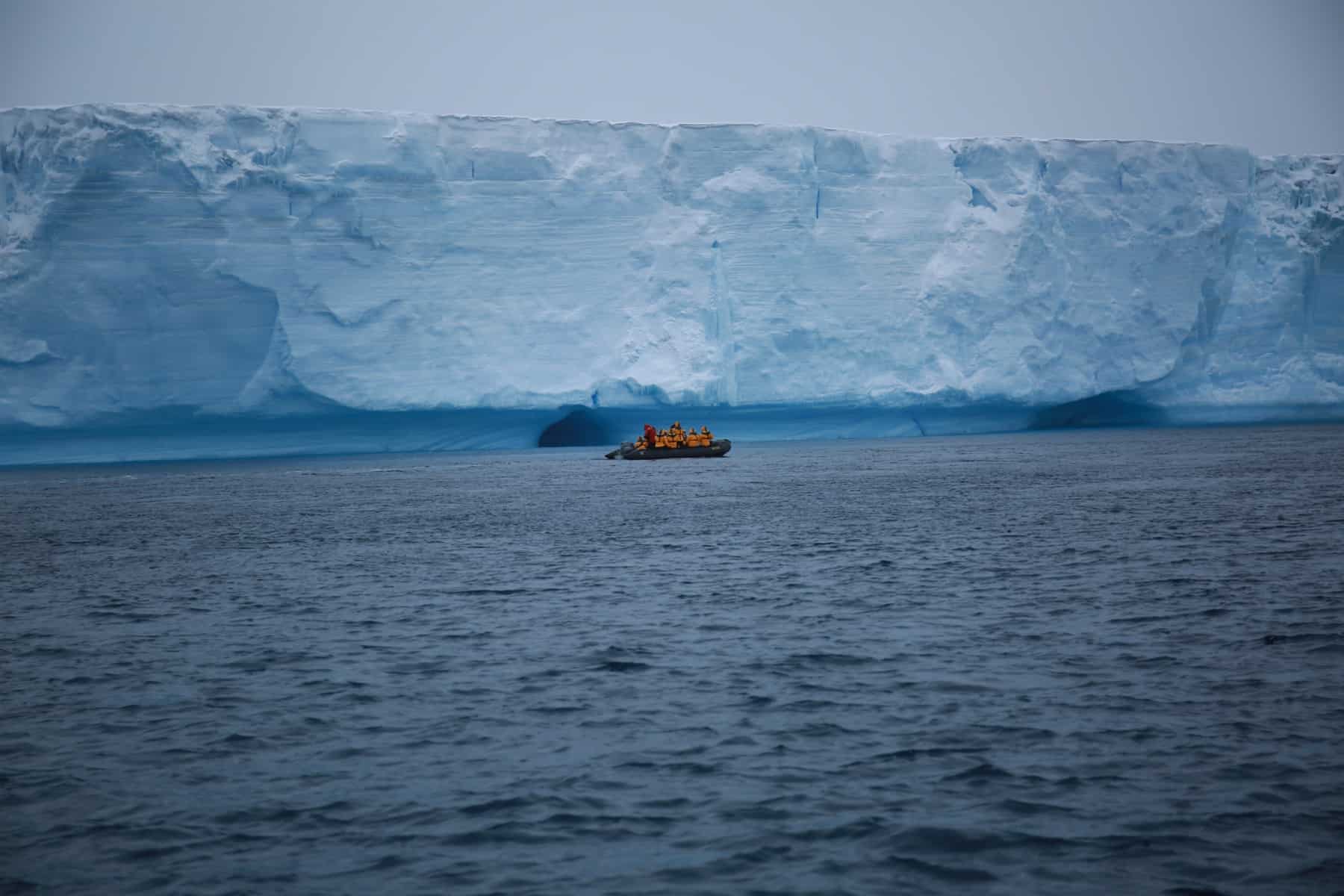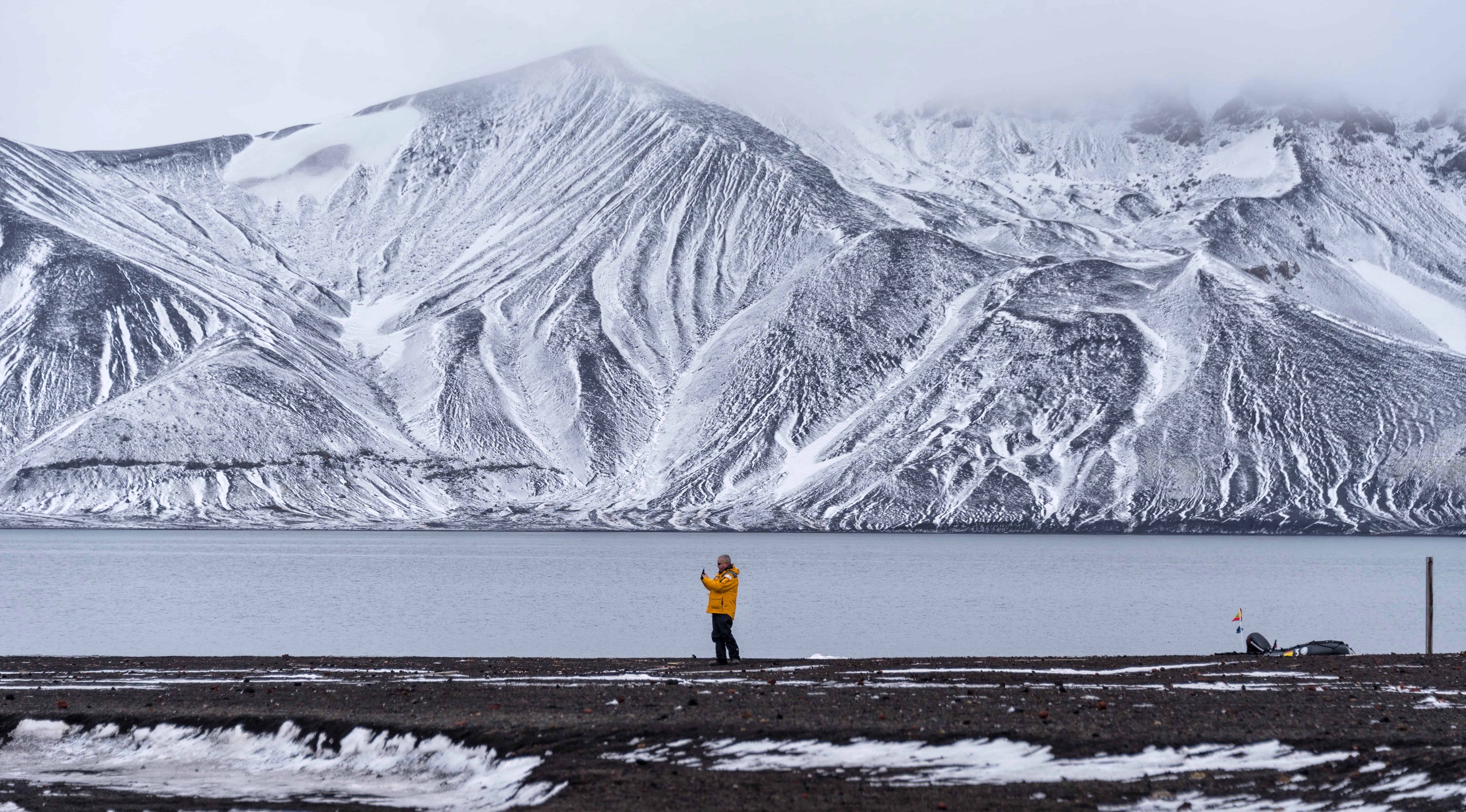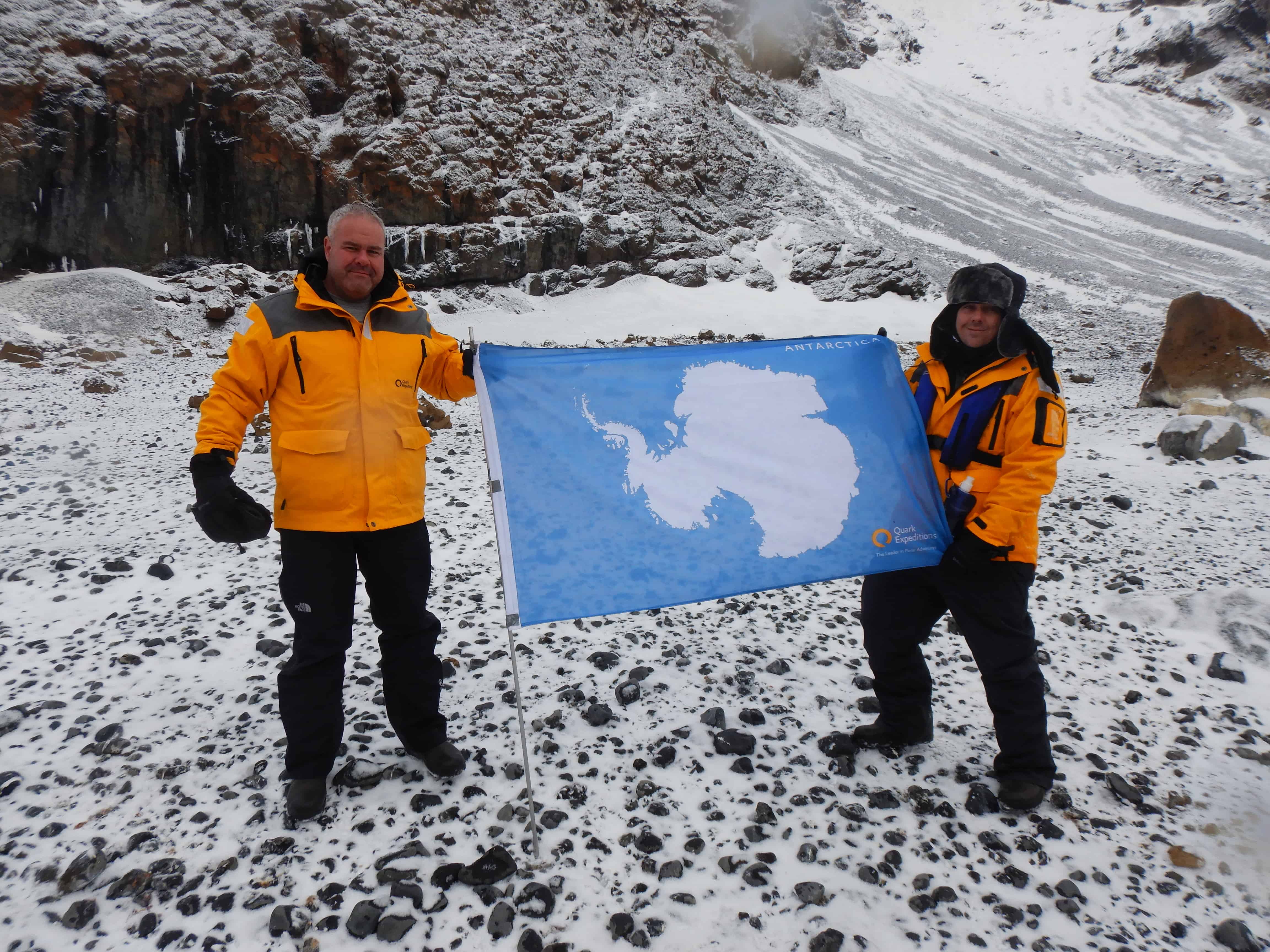 ---
Final Words

I'm not quite sure how to end this entry so I am going to let Alison (Ali), our Expedition Leader, do it for me.
Below is the video of the toast she gave to the entire ship. It was on the final evening when we departed Antarctica for the return trip home.
It still brings a tear to my eye watching it one month later. So turn up the volume and have a listen. This blog post is me doing my part to give Antarctica, as Ali explains, its badly needed voice.
#MikeRTW
ARVE Error: Mode: lazyload not available (ARVE Pro not active?), switching to normal mode