Driving on the autobahn in Germany had been something I always wanted to experience. As I type this on my computer over the Atlantic flying home from my 40th birthday in Europe, read along how I officially checked this baby off the bucket list.
The plan after Berlin was to head south to Dresden, Germany. It's the capital city of the free state of Saxony near the border with the Czech Republic and sounded like a cool place to explore. Since that was halfway to Prague, why not continue further south and explore another major European capital city in the same time, right?
---
Planes vs. Trains vs. Automobiles
Even though I love being on airplanes and going places, the entire process involved with flying is hardly pleasant. Getting to and from the airport. Going through the security theater. Waiting, boarding, waiting, taxiing, waiting, flying, taxiing, waiting, deplaning, etc. You fly only when it's necessary due to lack of other options — typically because of sheer distance you need to travel.
In Europe, things are fairly close together, so having an advanced train network comes in handy. While you can't take a train from New York City to London, you can take one from London to Paris, or Paris to Munich, or Munich to Rome, etc.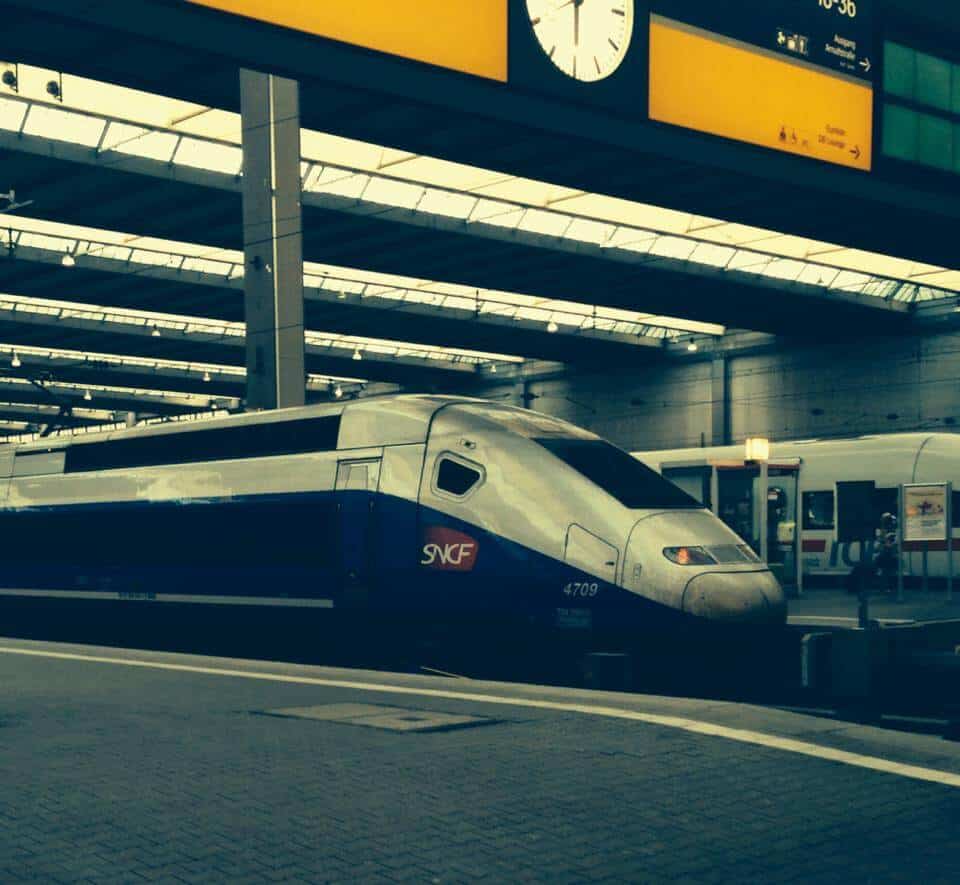 As far as driving, that is on par with flying. The whole process of finding, renting, and driving a car in mainland Europe isn't fun either. Gas is expensive. Tolls are plenty. The streets are small and narrow in populated areas. Cities aren't vehicle friendly at all. Parking is practically nonexistent. If you can actually find parking, you will be paying through the roof for it.
Not to mention in some places like the U.K. and Ireland (and India, Japan, Australia, South Africa, etc.) you'll even be on the wrong side of the road! The hassle and logistics involved in renting a car to tour around major cities in Europe is a nightmare.
But then the gear head part of my brain kicked in, and I remembered what makes Germany so much more impressive: Autobahns.
These aren't just highways. I'm talking about highways that don't have set speed limits in several areas and roads where everyone you share the road with drives with a certain level of skill. I've been a huge car guy since I was young. In my world, the smell of gasoline and tires rate right up there with chocolate chip cookies.
So you mean I can have a chance to drive on arguably some of the best highways in the world? Oh, god yea. Sign me up!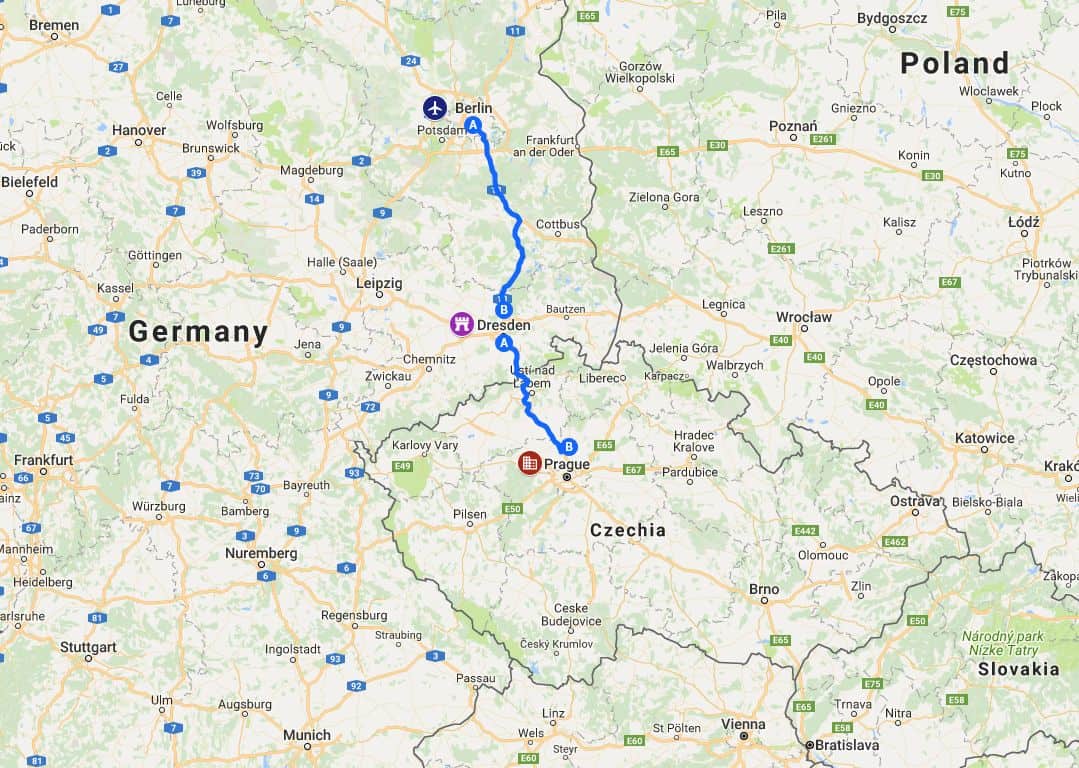 ---
Some Rules of Autobahn Driving
On a side note, there are plenty of rules for driving a German highway, and you better be well aware of them in advance. They're freely available online if you ever have the chance or would be interested. There are many do's and don'ts, and the Germans are pretty unforgiving if you're a shitty driver.

You can also get a massive fine for doing something like merely not moving over when someone wants to pass you. You either know what I am talking about or you don't. It costs thousands of dollars in time and money for the average German to obtain their driving license, and they specifically include training on autobahn driving. They aren't handed out to practically everyone like here in the United States.
There are always exceptions, but in general they respect the rules of the road and drive together in what can only be described as a "harmony" that doesn't exist in the States. So, let's get this party started!
---
Acquiring The Vehicle
For a once in a lifetime drive on the German highways, it would be necessary to secure an automobile with a little more kick than a typical economy car rental. While an Aston Martin, Maserati, or even a Ferrari crossed my mind for about three and a half seconds, there was a reasonably high chance I would kill myself in one, so apparently that was out of the question.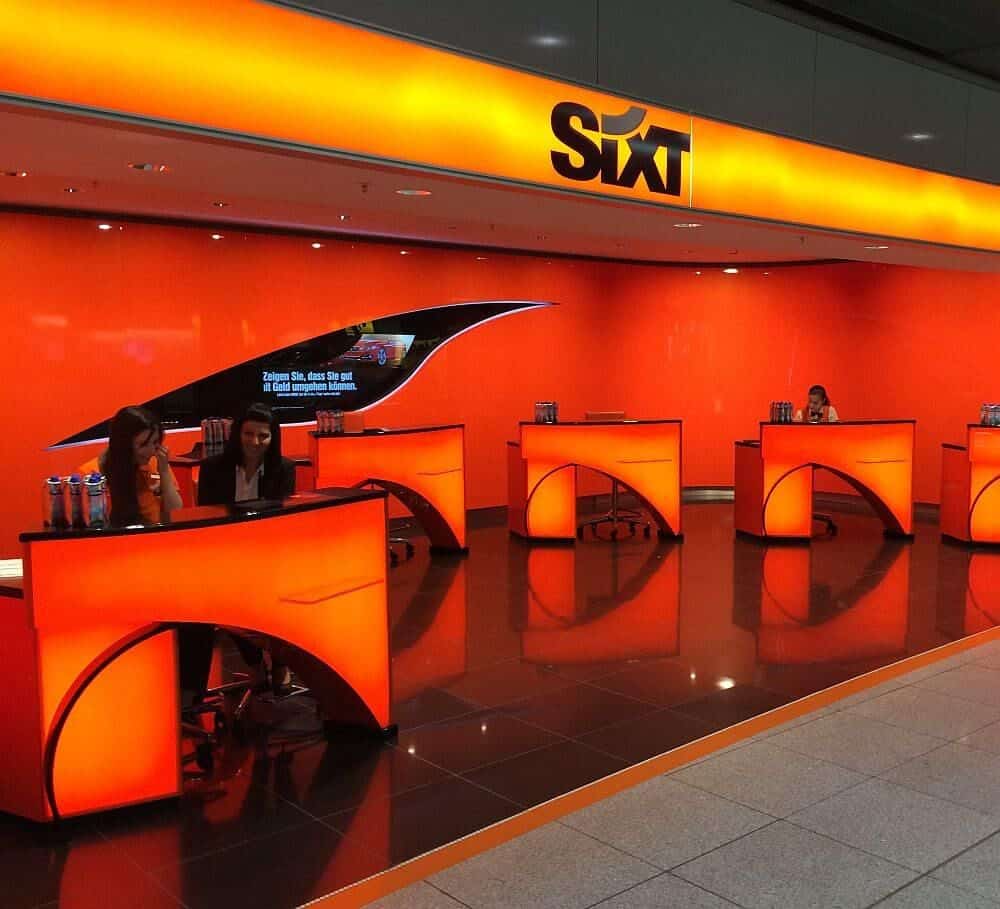 Time to go for something a little higher caliber than your typical rental but still safe and manageable. Nothing against those small compact cars with the lawnmower engines and crank windows, but we're talking about the German autobahn here. I don't just need an automobile or a plain old car, what I really need is — you guessed it — an ultimate driving machine.
Fast forward to the last day in Berlin. The decision to rent a car and forgo the train was solidified. I made the trek from the hotel back to Berlin Tegel Airport (TXL) to see what they had. Sadly, the options were limited. None of the typical German cars were in stock at the moment. BMW? None. Audi? Sorry, nope. Mercedes? Computer says no.
"Sorry sir, those are all sold out. We are fully booked. We still have this new Jaguar XF Wagon though. I know you said a manual and this is an automatic, but how about that?"
Prior to this trip, I had never driven a Jaguar before but do know from my car geek groups that the new Jaguar XF's are pretty decent vehicles though. The choices were limited here. It was either the Jaguar, or an SUV (sorry, I need a sports car for this one), or a small Opel or Renault or something that looks like it could barely get up a hill all by itself, much less make it to 150 MPH.
Sold to the American birthday boy for $117 EUR/day. "Yep, I'll take the Jaguar!"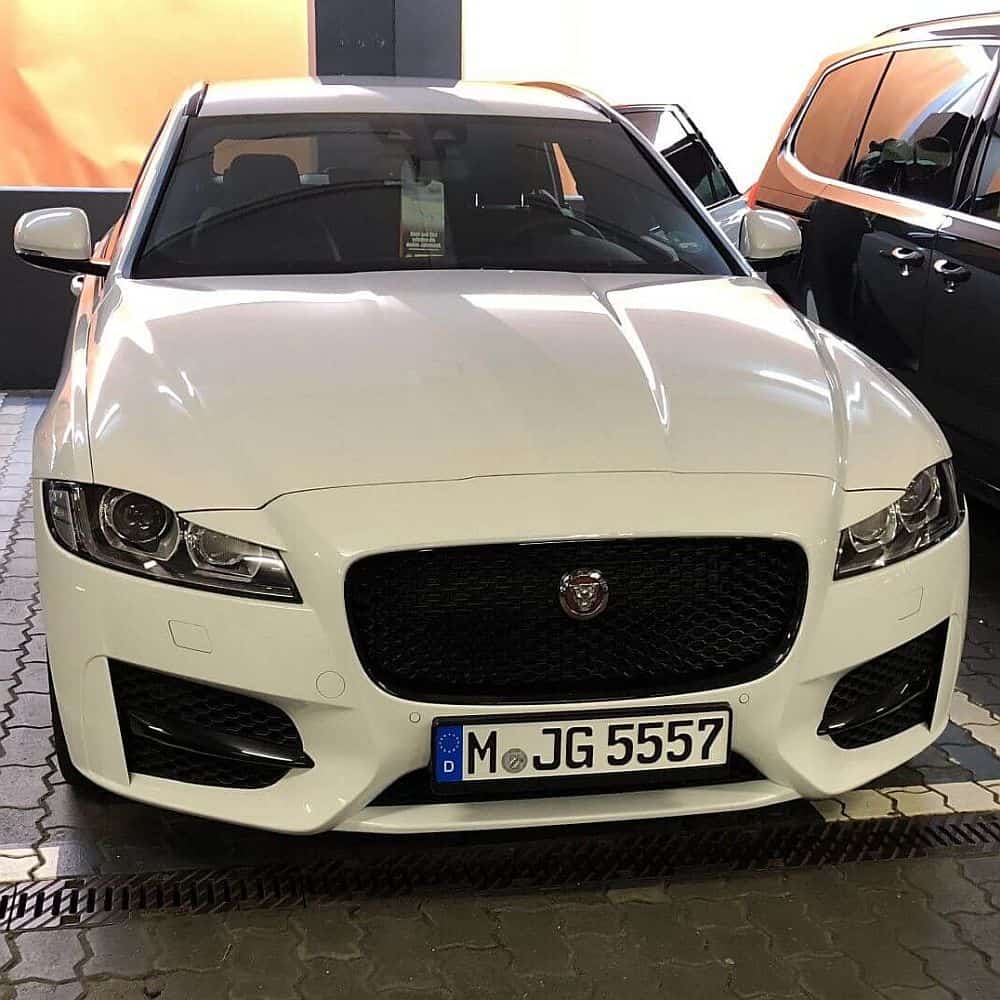 ---
Zoom! Zoom!
I set out on the A13 autobahn for Dresden around Noon. But let's be honest, the drive itself would be the actual destination for the next three hours. The basic goal with this car would be to drive from Berlin to Dresden to Prague, then back from Prague to Berlin to catch my return flight home the following Sunday.
This all amounted to about 700 kilometers (435 miles) and just under seven hours of driving with a couple bathroom breaks and petrol stops included.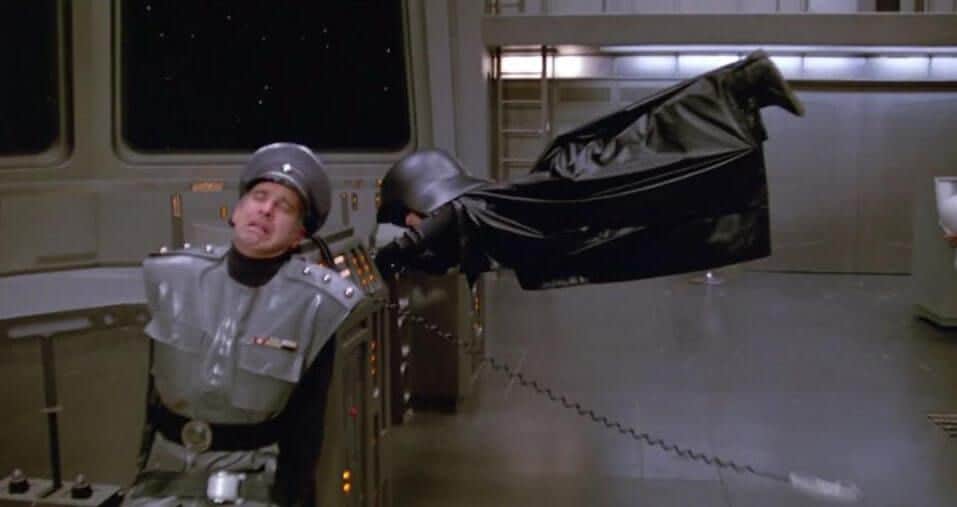 Don't get me wrong. Driving in Germany isn't all rainbows and puppy dogs. There were parts where it was just like being at home including bumper-to-bumper traffic and two lane congested roads. But whatever. The nearly open straightaways through the countryside more than made up for it.
See a picture of Waze below and notice the miles-per-hour speed in the bottom left of the phone screen. This was just cruising along at 114 MPH on a typical stretch. For the large majority of the trip, we stayed right around ~100 MPH which was comfortable enough to relax and enjoy the German countryside but not too slow.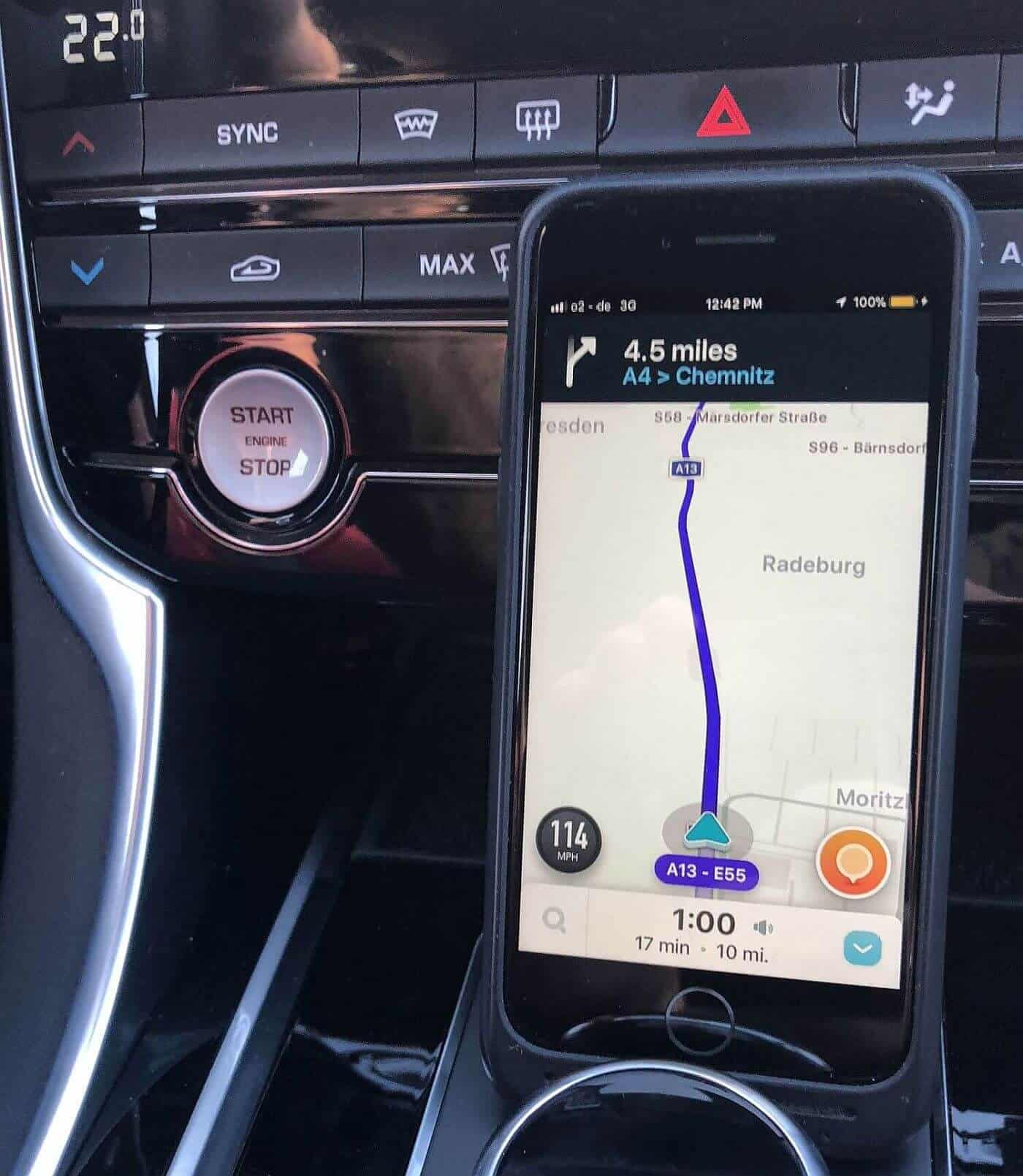 I grabbed another very quick and blurry shot of the dash at 200 km/h which is about 124 MPH you can see below. I finally got it up to around 230-235 km/h, which is between 142-146 MPH but no evidence. See my paragraph below the dash picture for why.
Although I still am not sure if the vehicle had a governor or was otherwise limited. There was a big sticker (no picture, sorry) that says "240 MAX" in the shape of a little speed limit sign to the left of the steering wheel on the dashboard. 240 is 150 in MPH, so that's really fast especially for someone not used to doing it all the time.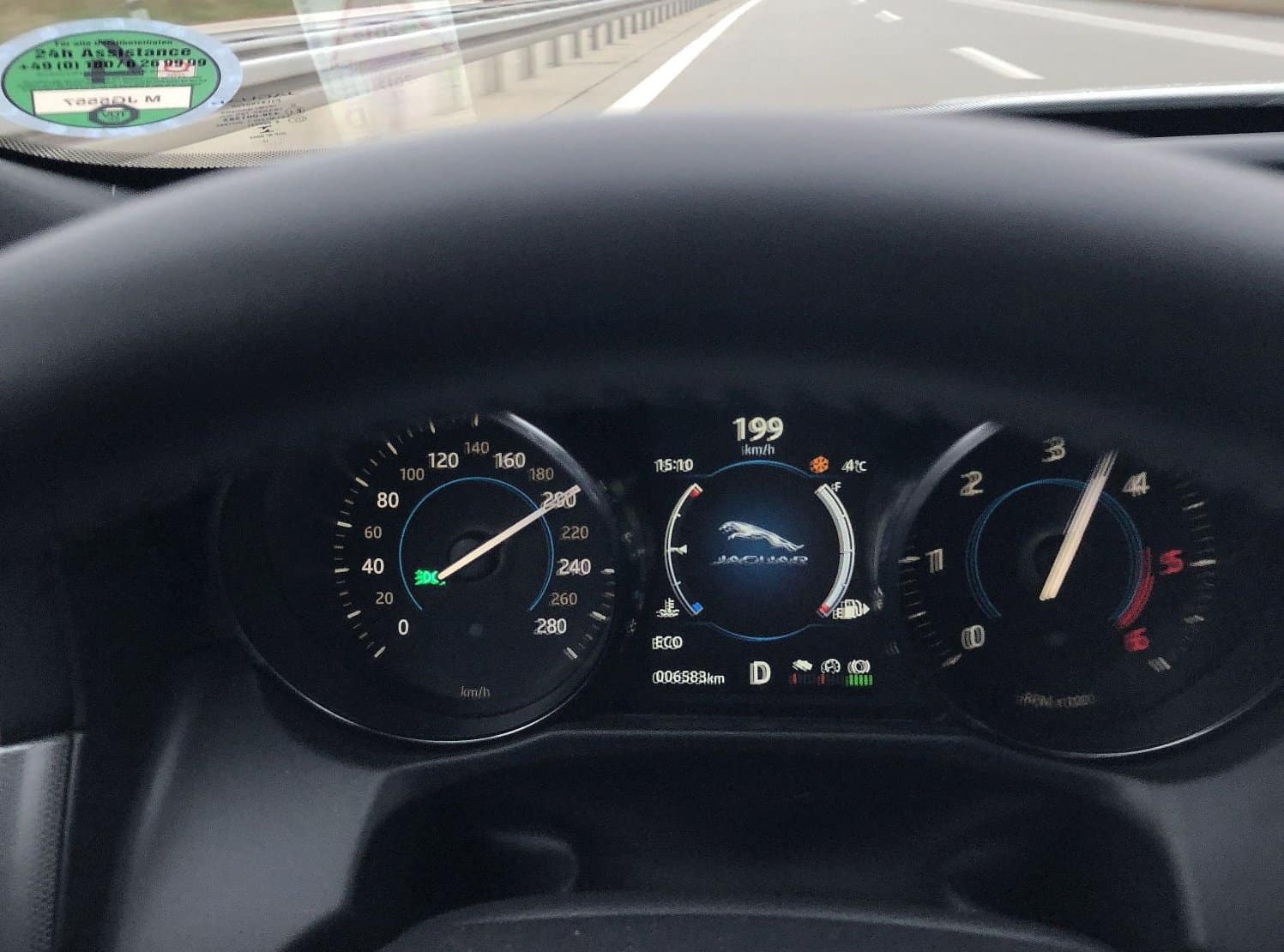 I had the pedal mashed to the floor at 230-235 and the Jag definitely wasn't going any faster than 235 no matter how hard I pressed. It could have been a combination of the outside temperature, the wind gusts (they were decent), the one or two degree incline grade of the highway, or even all of the aforementioned combined. Who knows.
All I know is that it was a freaking blast. The car handled wonderfully and the other drivers all knew what they were doing. They all move over for faster vehicles and even I was passed a couple of times for people wanting to go faster.
---
Autobahn Driving: Mission Accomplished
So yup. Another bucket list item checked. 230 km/h on a German autobahn.
Time for confession. Driving this fast is exhausting. Let me explain: It requires constant attention and 100% focus on all your surroundings. In front of you, beside you, and behind you. Every second. You don't even want to change the radio station after you hit 200 km/h (120 MPH) because you're just concentrating on driving. Snapping a pic at 230-235 km/h wasn't even on the table. The only similar thing I can think of is riding a jet ski at full throttle for more than 20 minutes. If you've done that, you know what I am talking about. It can get mentally exhausting always having to be in constant control. It was definitely a mental workout for sure.
---
Side Note: Czechia Highway Permit
Thanks to the Schengen Agreement effective in 1995, border checks and controls were abolished across Europe.
This means people are allowed to move freely from country to country just as we here in the USA move from state to state. The only way you even realize you're crossing into a new country is maybe a big "Welcome to [insert country here]" sign on the road.
But when driving across the border to the Czech Republic, you have to stop at the border gas station and store and buy this pass for 437 CZK (17 EUR or $20 USD).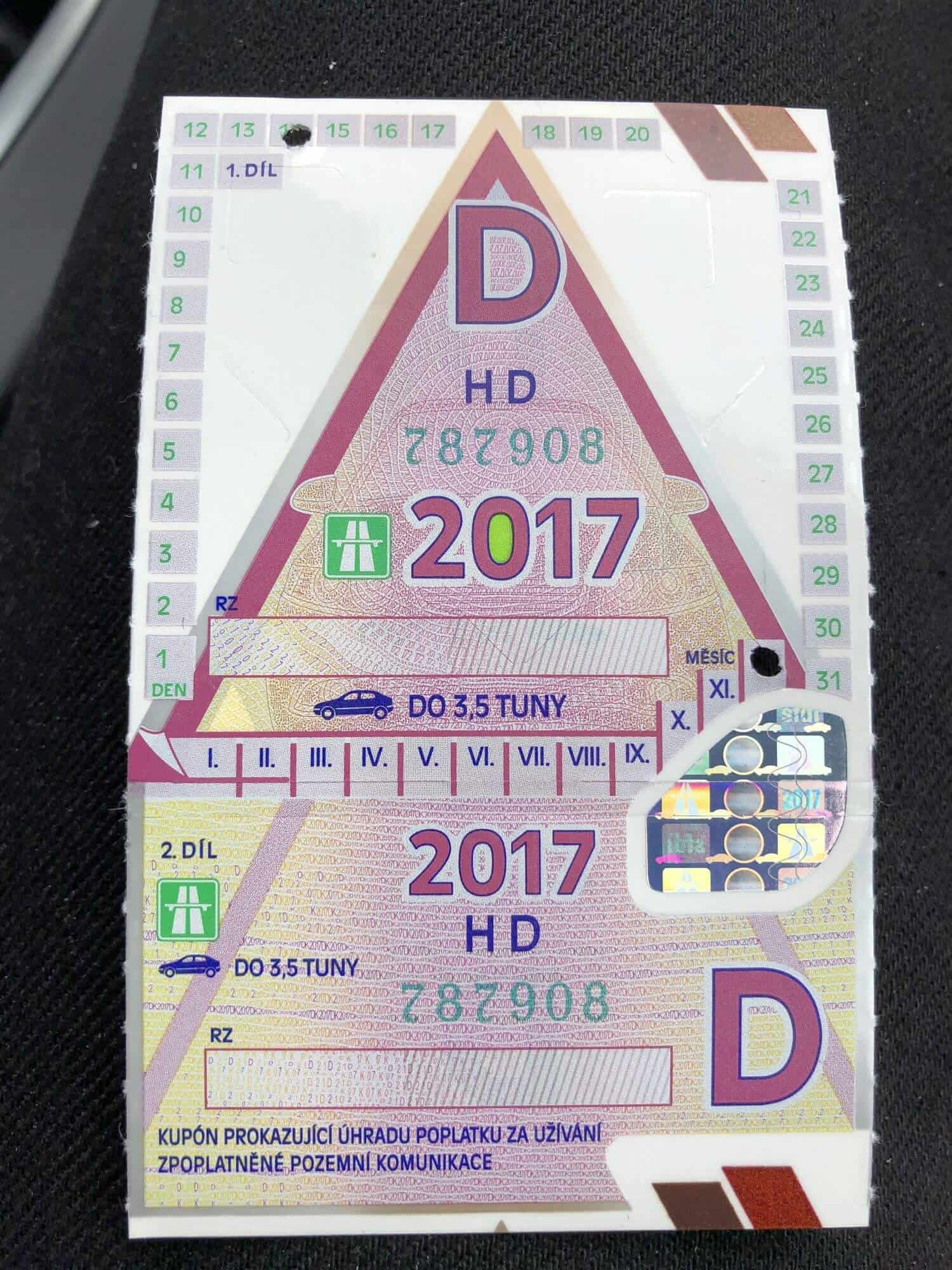 It doesn't really do anything. You just put the slip on your dashboard and that's it. They say if you get stopped by the cops, it proves you are allowed to drive in the country and acts as a registration for the vehicle. The fine for not having it is 5,000 CZK which is more than ten times the price of the sticker itself.
Hilarious part is they didn't take any information from me in exchange for the slip except for the money. No name. No car information. No nothing.
Sounds like a racket to me just to get twenty bucks from everyone crossing the border via highway. You know, like that $20 "visa" that you have to "apply for" in order to enter Australia. More Info: Czechia Motorway Sticker Website
Major Lesson Learned
As always each post needs a major lesson learned. This one was already known but needs to be reiterated to everyone: Speed doesn't kill. Inexperienced and inattentive drivers do. It's really that simple and the accident rates back it up.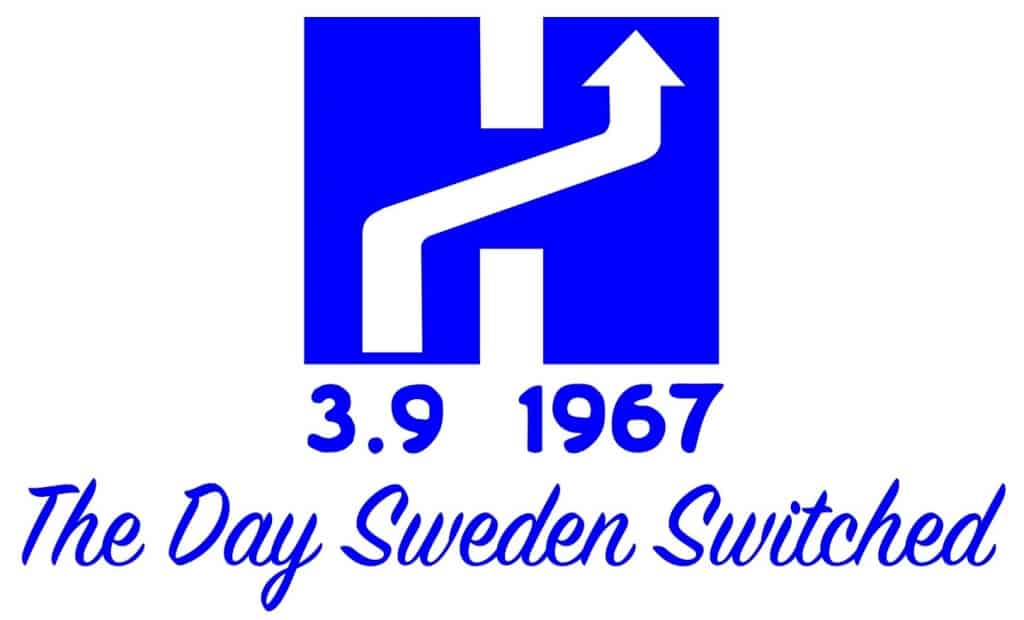 That being said, in the process of writing this article I went to search for examples of countries other than the U.K. and Australia that I know of where they drive on the opposite (left) side of the road. This lead me to the Wikipedia article about "Dagen H" — the day that the entire country of Sweden switched from driving on the left side of the road to the right. The entire country switched sides. All at once. On a single day.
Seriously. Read this story because it is fascinating: Wikipedia: Dagen H (3 September 1963) Day