Earlier this past summer, a couple of friends mentioned going on a Mediterranean Cruise to Italy & Greece. Naturally, the opportunity presented itself to come along for the journey. The focus was on two countries that remained on the not-yet-visited list.
Our core group consisted of ten people. Me and nine others, four of which I had known for a while and five that I had never met. Ordinarily, I wouldn't count a single day cruise ship stop as a way to visit a country. This port-heavy ten-day itinerary was set up perfectly. It would allow for visits to three separate places in Italy and another three in Greece. My preconceptions changed at the drop of a hat. Six whole days on land would be sufficient to give me the cultural experience I needed.
After arriving back home from this trip, I would be able to place Italy and Greece firmly into the visited country list.
Cruise Trip Organization Details
One of our travel companions took care of the details at each port. We didn't want to go on official excursions from the cruise ship. Nor did we want to aimlessly wander around. So we contacted private guides (from TripAdvisor) and rented a mid-sized minivan at each port, making up an itinerary as we went along. Enter a destination, enter some keywords, sort descending on ratings, and start emailing people. The reviews are from folks like you and me, and you generally can't go wrong.
Our approach allowed our small group of ten people to stop and see more of what we wanted. What we got were great photo opportunities and the ability to experience some amazing things off the beaten track. We skipped things that we as a group didn't like as much, such as beaches and museums.
Some of the back-to-back days were jam-packed with early departures from the cruise ship (7:30 a.m.) and late returns back on board (5:30 p.m.). This meant that there wasn't much time for partying. In fact, there was only one late night party night out of the entire trip where we closed down the Vortex nightclub on Deck 13. This was the polar opposite of the typical Caribbean cruise experiences we have as a group, which centers on lying by the pool during the day and partying in the evenings and being up to watch the sun rise again.
Exception: Rhodes, Greece

My entry doesn't mention the stop in Rhodes, Greece because I wound up staying on board the ship enjoying an empty pool while everyone else went on land that day.
The quick backstory is that Rhodes was the last minute addition to Royal Caribbean's Mediterranean cruise itineraries. Prior cruise trips included a stop in Turkey, but that changed for safety reasons at some point in the past couple years. Rhodes is one of the furthest east Greek islands, and I believe we could see Turkey from the ship. I didn't know much about it. We had three other main stops in Greece.
For me, the goal was to relax in some sun and quietness. A 95% empty ship provided the perfect opportunity, so I snagged it. Sorry, Rhodes.
Transit Information

Outbound Flights

Boston Logan (BOS)
to London Heathrow (LHR)
British Airways BA212
Fri, Sept 8, 2017
Airbus A380-800
Registration G-XLEL
Seat 59A (Upper Deck)


--- CONNECTING TO ---


London Heathrow (LHR)
Rome International (FCO)
British Airways BA548
Sat, Sept 9, 2017
Airbus A320
Registration G-EUYH
Seat 5A
Inbound Flights

Rome International (FCO) 
to London Heathrow (LHR)
British Airways BA549
Tues, Sept 19, 2017
Airbus A320
Registration G-EUUR
Seat 4A 


--- CONNECTING TO ---


London Heathrow (LHR) to 
Boston Logan (BOS)
British Airways BA203
Tue, Sept 19, 2017
Boeing 777-200ER
Registration G-VIIN
Seat 15A
Miles Flown this Trip: 8,314
Lifetime Miles Flown: 354,220
Destination: Rome, Italy
Our first stop on our Mediterranean cruise to Italy & Greece was Rome. The city was what I had expected it to be. An old European city with a quintessential Italian vibe. I mean, we're talking about Rome after all, right? At this point, my friends were still in Barcelona, Spain after having spent a week in Sitges. It meant I was flying solo for the afternoon and evening. I also don't sleep on airplanes, so after the overnight from Boston (spent wide awake watching movies), I had limited energy to run around Rome on zero hours sleep.
Pop Quiz: What is the best way to see a major first world city in limited time, on the cheap, and with minimal effort? The double-decker "hop-on-hop-off" bus of course. You may loathe the sight of them driving around your home city (I know I do), but for a tourist, they are great options.
After I landed at FCO, I hopped a cab to the hotel. I did a quick rinse and costume change, and ran down to get a pamphlet for the bus from the corner street vendor. A quick glance told me it ran every ten minutes, stopped at twelve sites around the city, and cost a total of €18 euro. I was sold.
Over the course of two hours, we drove through Rome along twelve stops that showcased everything from the Coliseum to Vatican City and everything in between.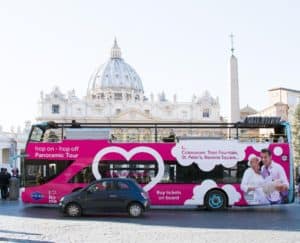 I'll admit I took two laps around the city vs. getting off at each stop and walking around. I was exhausted from not sleeping on the overnight flight into Rome okay. So my pictures from Rome aren't all that great, but sometimes it is about the experience, not the photos.
One random observation is that the amount of graffiti was surprising as it appears the city doesn't care to remove it. At one point a guide of ours in Greece said much of the graffiti in the major European cities is politically motivated and not representative of "the gangs [you have in the States]" which was an intriguing quip.
Indeed, one of the most intricate (and artful) pieces that I saw driving by were the two words "REFUGEES STRAIN" across the side of a building. I wish I had a picture, but we had passed it by the time I haled my camera out.
Once the bus tour was over, as is what happens in Europe, some random cute little sidewalk restaurant caught my eye. I stopped to have a solo dinner – which by the way was my first real meal in 24 hours. I then picked up a couple of souvenirs from a nearby shop and headed back to the hotel to turn in for the evening watching some BBC World News to fall asleep. The next ten days would bring a lot of walking, climbing, eating, and picture-taking. It was time to sleep.
Quick shout out to the Qi Hotel Roma (Via Firenze 8) which exceeded expectations. It was a modern and somewhat western type hotel. Offering freezing cold air conditioning, super-fast wireless internet, awesome staff, and an unexpected balcony that opened over the street, it ticked all the boxes. I'm not difficult to please when it comes to accommodations and typically need only a semi-comfortable bed and good air conditioning. Older metropolitan area city hotels can be very hit or miss sometimes, so my expectations are often low. This one smashed it out of the park.
Cruise Destination: Messina, Sicily (Italy)
Every proper card-carrying homosexual knows the Golden Girls. If yoou've ever watched the Golden Girls, you'll know that Dorothy Zbornak's mother always had flashbacks about "When I was a kid in Sicily." Well, here we are.
The only thing I knew about Sicily was that it was being kicked around by Italy on a map of the world. It was a kind of cool little place. Some members of our group decided to hike Mount Etna. I stayed back in the town of Messina with a couple of others and walked around exploring.
We took a little hour-long tram/bus tour around the big sites, got some Gelato, and grabbed a souvenir. It was one of the more basic days, at least as far as I can remember. That may also be because the stops in Greece and the Amalfi Coast at the end of the trip dominate my memory. Keep reading.
Cruise Ship Destination: Mykonos, Greece
After a basic day in Messina, a day at sea, and then skipping Rhodes in favor of the pool, I was ready to haul ass for the next three days. We unquestionably hauled ass starting with Mykonos. With a driver and a guide picking us up at the port and bring us around the entire island, we got to see everything there was to see.
First stop was up to the top of a mountain and lighthouse where you had a panoramic view of most of the island. That was followed by a quick visit to Kalafatis beach for some walking around. None of us expected or wanted to have a beach day. Naturally, this meant we didn't have swimsuits or towels, but we wanted to look around for a while.
Finally, we ended up in the center of town wandering around for the afternoon. We spent hours walking up and down the narrow paths and through the buildings older than anything in the United States of America. If it looked interesting, we stopped, not having to adhere to a set schedule. There was a remarkably cool old bakery (think: 1,000 years) that some of us stopped to get food from.
Mykonos is also home to some renowned clubs where world-famous DJs come to perform. Its nightlife is right up there with Ibiza. We passed by them, and of course, they were empty since it was the middle of the afternoon. I could only imagine some wild nights of drugs and dancing that went on there on a regular basis. Some people may frown on that, and I don't advocate routine drug use. However, I sure as hell don't plan on sitting on my front porch at home when I am 80 years old, having wished I did [insert something here] when I was younger and had the chance. You have one life. Try to find a balance and let loose every once in a while; it's healthy.
Cruise Ship Destination: Santorini, Greece
The stunning beauty of this place can't be captured in a postcard. It's every bit as beautiful as you have seen or would imagine.
Santorini. Oh, Santorini. My expectations were high. I, like everyone else, had seen the pictures of the solid white buildings with the bright blue domes against the cliffs with the solid blue ocean backdrop. We've all seen the postcards of the beauty of Santorini, and it easily exceeded those expectations.
Our day started with a driver and guide just like in Mykonos. There were some old ruins of an ancient city we got to see, and then a drive up a mountain for some panoramic pictures. Truthfully I can hardly remember those two things.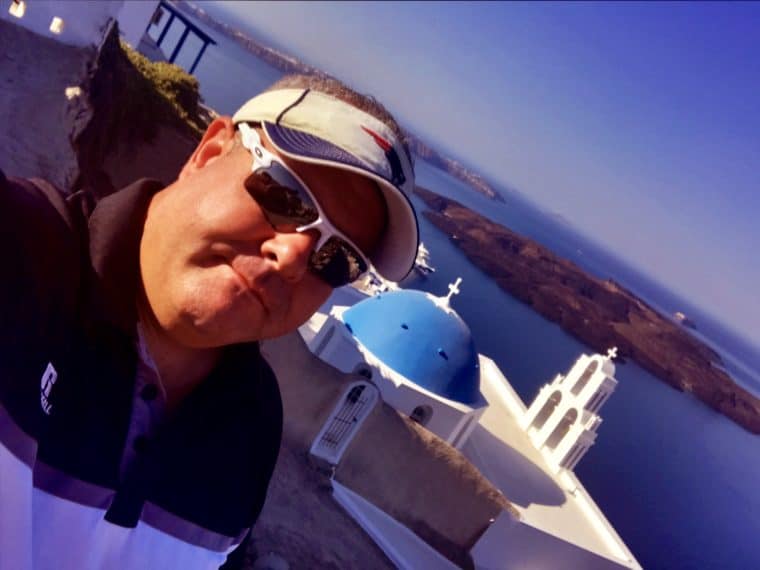 While we were roaming the streets of Oia, the man-made beauty got cemented in my brain. We were discovering another perfect view just around the corner from the last one. Walking up or down a set of stairs to come across yet another piece of beautiful architecture. It was perfect. The afternoon was excellent. Weather conditions were awesome. The views were breathtaking. Everything was perfect. Alright, except for one thing:
Oia, the main city in Santorini that you see in pictures, sits at the top of a very high mountain with cliffs that go straight down to the ocean. The only way up and down to the dock is either by one of three methods:
Traversing very steep, twisting and winding stairs. Lots of them.
Riding in a cable car built relatively recently, but very slow.
Hopping on a donkey that will do the twisting and winding steps for you while you sit on him.
Our cruise ship, the Royal Caribbean Jewel of the Seas, is a midsized ship that holds around 2,500 passengers. There was a Princess cruise ship carrying 4,500 people in port with us at the same time. By the end of the day, all 7,000 of us got caught trying to get back to our ships at the same time.
I waited an hour and five minutes in the line for the cable car. After standing for 20 minutes, I had too much invested (read: was too stubborn) to get out of line and abort in favor of method number two. Some others did the walk down on foot once they learned the cable car line was over an hour long. None of us are under 220 pounds or thereabouts, so option three was out. We didn't want to break any donkeys. Think of the donkeys.
But let's be honest here, the beauty was so overwhelmingly powerful that the small nuisance of getting back to the ship is just a faded memory. I didn't plan on letting the mishap ruin my Mediterranean cruise to Italy & Greece.
Cruise Ship Destination: Athens, Greece
When you think of Athens, you think of some ancient Olympic stuff and some piles of rocks of old cities. It was so much more than that.
Athens had a vibe that was unexpected. You could feel it, and it left an impression. While I don't speak for everyone, I know that I left this trip thinking of Athens as more of a vibrant, world-class city than just a pile of old rocks and mythological statues and some Olympics. Why do I travel? To have my preexisting notions blown out of the water and to be challenged in how I think about people, places, and cultures.
You can't deny the incredible presence of the old ruins and ancient cities. The Acropolis and the Parthenon are downright amazing. In fact, they're so amazing that it was packed wall to wall with tourists. Crowd estimates were at about 10,000 which is just at maximum capacity for the morning we were there. It was also covered in construction scaffolding and a couple of cranes because they're rebuilding a bunch of it.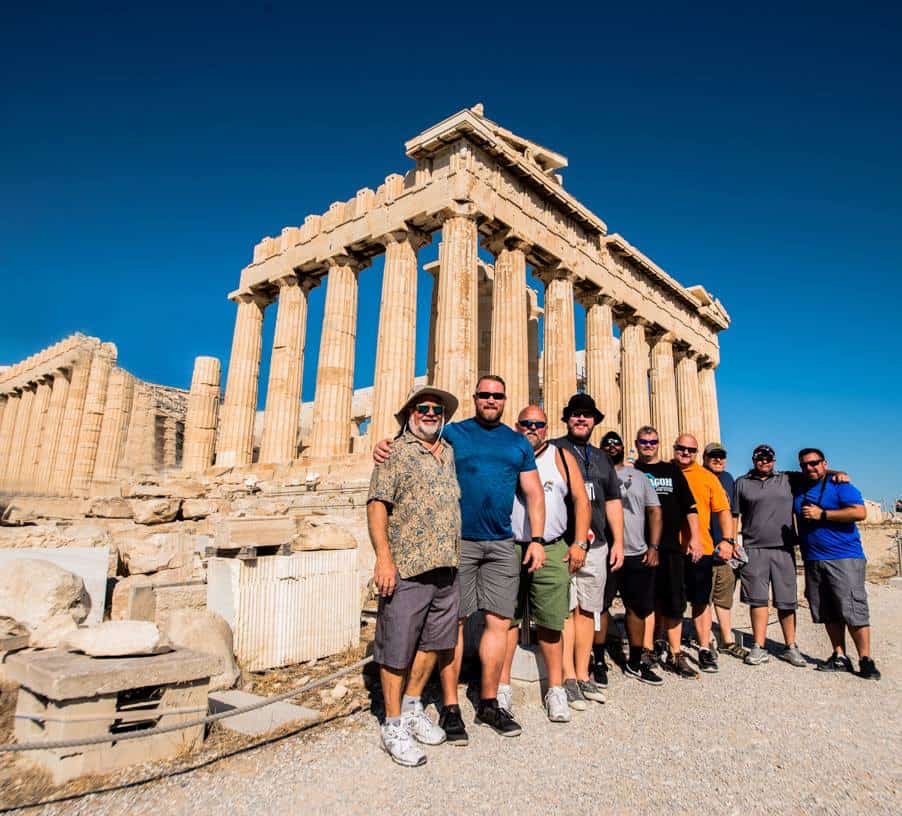 We learned how present day techniques are used to reconstruct everything and exactly what percentage of new marble they can mix with old to keep the historic structures just that, historical. Fix it from breaking any further yet don't restore what hasn't been there for a long time, if that makes sense. I won't bore you with pages of details, but let's just say the Greek people and government put a lot of thought into preservation. As they should.
The last part of the tour brought us through the old Olympic stuff including the first and original Olympic stadium and a changing of the guard at their version of a congress or parliament building.
Back to the vibe of the city: I like to rank places by the desire to return in the future to dig deeper into the city, culture, and its people. This destination ranks pretty high. Unexpected awesomeness is always welcome.
Cruise Destination: Naples, Italy: Sorrento, Positano, and the Amalfi Coast.
Although the destination of the cruise ship was the port city of Naples, Italy, we had other plans. Just an hour drive away is the Amalfi Coast. We decided to have our tour guide and driver take us to Sorrento, Positano, and the town of Amalfi itself.
The drive down the coast with the road hanging over the mountain edge was a bit scary at times. This had been particularly true in sections of two-way traffic where two larger vehicles needed to pass each other. I'm sure these drivers do it daily and could pass each other with their eyes closed, but the twisty roads got very interesting a couple of times. Sorrento was a classic Italian town. No surprise there. Positano was a small town on the side of the mountain range over the water. Both offered amazing views you can see in some of the pictures posted with this post.
Amalfi, the town itself (as opposed to the larger same named coastal area) was quaint. We decided to have our last meal on land there in the late afternoon. What do you choose when you're on the Amalfi Coast of Italy? Pizza. You know, the real authentic pizza you can get when sitting in the place where it had been invented. It wasn't a difficult choice.
Trip Conclusion
As our Mediterranean cruise to Italy & Greece came to an end, I felt kind of nostalgic. Pizza firmly in the stomach and comfortably back on the ship, we packed our things and went to sleep knowing we would wake up the next morning right back where we started.
After adhering to an awesome diet for the past six months and losing 50 pounds, did I wolf down regular coke, fries, gelato every day, and get chocolate chip cookies from room service every night? Hell yes.
Were there mishaps? Sure. Did a couple of things go wrong along the way? Yep.
But why write about the negative stuff? The overreaching result was an incredible memory that will live inside my head far longer than any physical possession I can buy back home.
I met a couple of new amazing guys, saw some of the most beautiful sites in the world, and feel completely blessed that I have the opportunity to get out and travel. I hope to at least try and share a little bit of that with others through a blog post, no matter how small.
Biggest Lesson Learned
Whenever I go on a trip, I try to walk away from it with a primary takeaway that will shape my future travel. This one involves the cruise ship itself.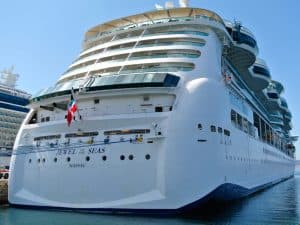 I have gone on a cruise every year since 2008. Each one was to the Caribbean, and they all consisted of a non-stop party with a large group of friends. Not that a vacation like that is inherently wrong, but this trip gave me an entirely new perspective of what a cruise can offer someone.
In the Caribbean, even when we would port in St. Thomas, the Bahamas, or one of the other islands that we have visited eight hundred times before, we would hop right on a catamaran filled with rum punch and then pour ourselves back on the bigger ship at the end of the day.
Moving forward, I am much more open to harvesting the utility of a cruise ship solely as a floating hotel room that brings me from place to place each day with a good breakfast that can be used as a base to walk and climb all over a city for the 12 hours.
As long as the cruise itinerary promises new and exciting places and the visits at each port are planned out well in advance, a cruise ship can be quite the cost-effective way to bring me to my the ultimate goal: visiting every country in the world.
Enjoy the pictures!
#MikeRTW