Fresh off a long haul flight from Boston (via Miami to Buenos Aires) we immediately hopped on the Buquebus high speed catamaran to Montevideo. The idea was to spend some time walking around this lesser known South America capital city before we had to rendezvous with friends back in Argentina a couple days later.
Immigration, emigration, and passport control was funny to me as a stamp collector. The catamaran ferry is a routine process for locals apparently, so the Argentina and Uruguay customs folks sit right next to each other in the same booth. You're stamped in and out and in and out all at once. Thank god for those extra blank pages.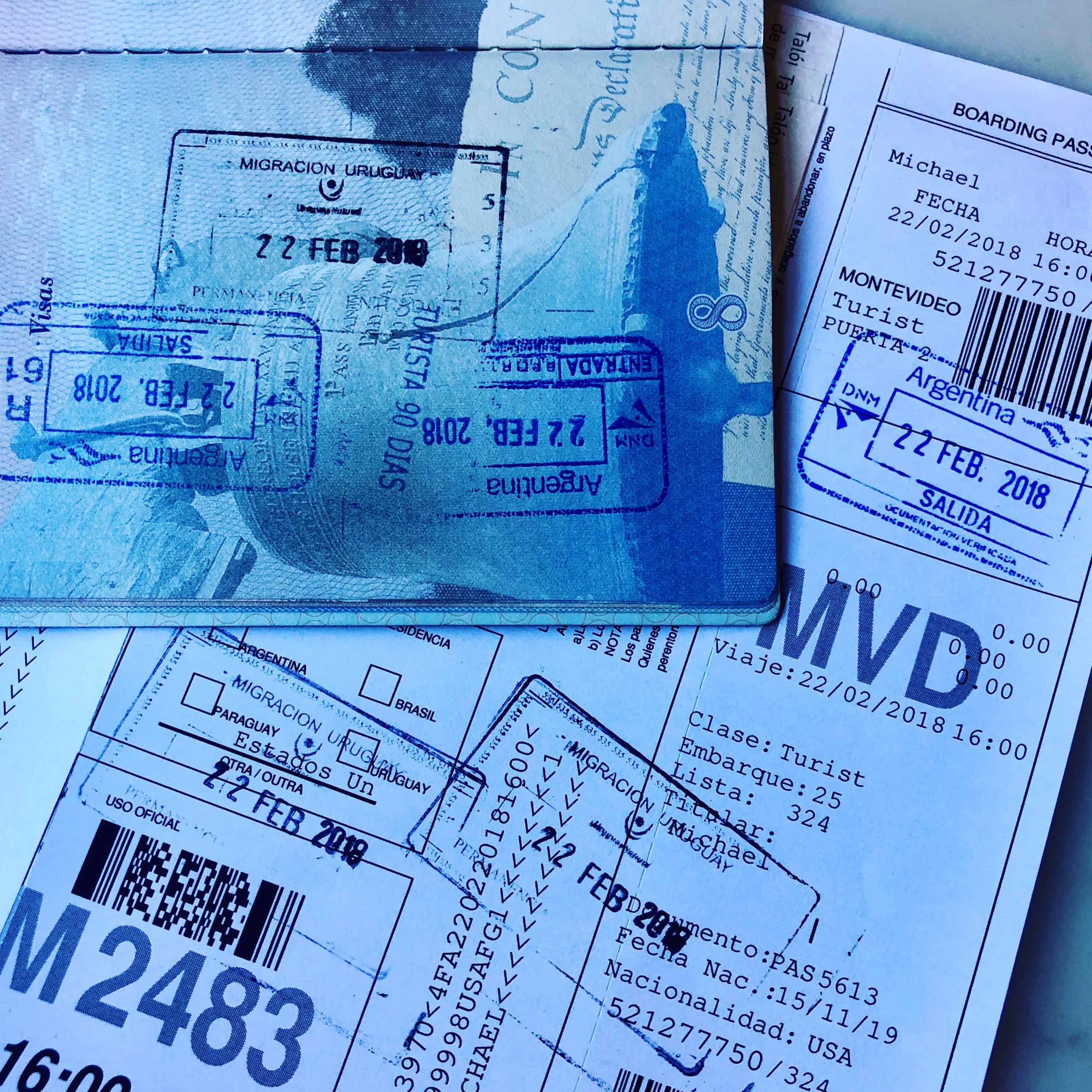 As always the best thing to do when getting to a new unexplored city is a free walking tour. Simply head over to TripAdvisor.com, type in the city, find the tour category, and sort the results descending by rating. Then pick the top one or two free ones offered and look at their respective websites. Pick anything with a 4.9 or 4.8 and you can never go wrong.
They're in every major city on the planet and the guides work for tips, so you're guaranteed something good since you're getting the tour before anyone asks for any money. You're free to walk away at anytime and you only tip as much or as little as you want at the end. My experience is that every guide has been very knowledgeable, outgoing, and funny.
"Gonzalo was really enthusiastic and interesting, and told us a lot about the history of Uruguay that we didn't know. He also took everyone's number so that he could give more tips and advice and answer questions – a real welcome to Uruguay! "
Since you've been with your guide for 3-4 hours and formed a semi-personal relationship, everyone winds up tipping generously. This model is ten times better than charging up front and it's a win/win for everyone. The only time it has failed was on a really busy peak season Saturday in the summer when too many tourists show up and there aren't enough guides who speak each language. Coincidentally, we would discover this in Buenos Aires just a couple days later, but I digress.
The Montevideo Walking Tour started at Plaza Independencia, which was right across the street from the Radisson Montevideo we called home for two nights. In the middle of the plaza you'll find a five story tall statue of José Artigas, (the man who put the wheels in motion for Uruguay's independence from Spain and Portugal) on horseback. Underneath this statue is José's mausoleum which consisted of a huge darkened room with two uniformed guards standing on each side of the center.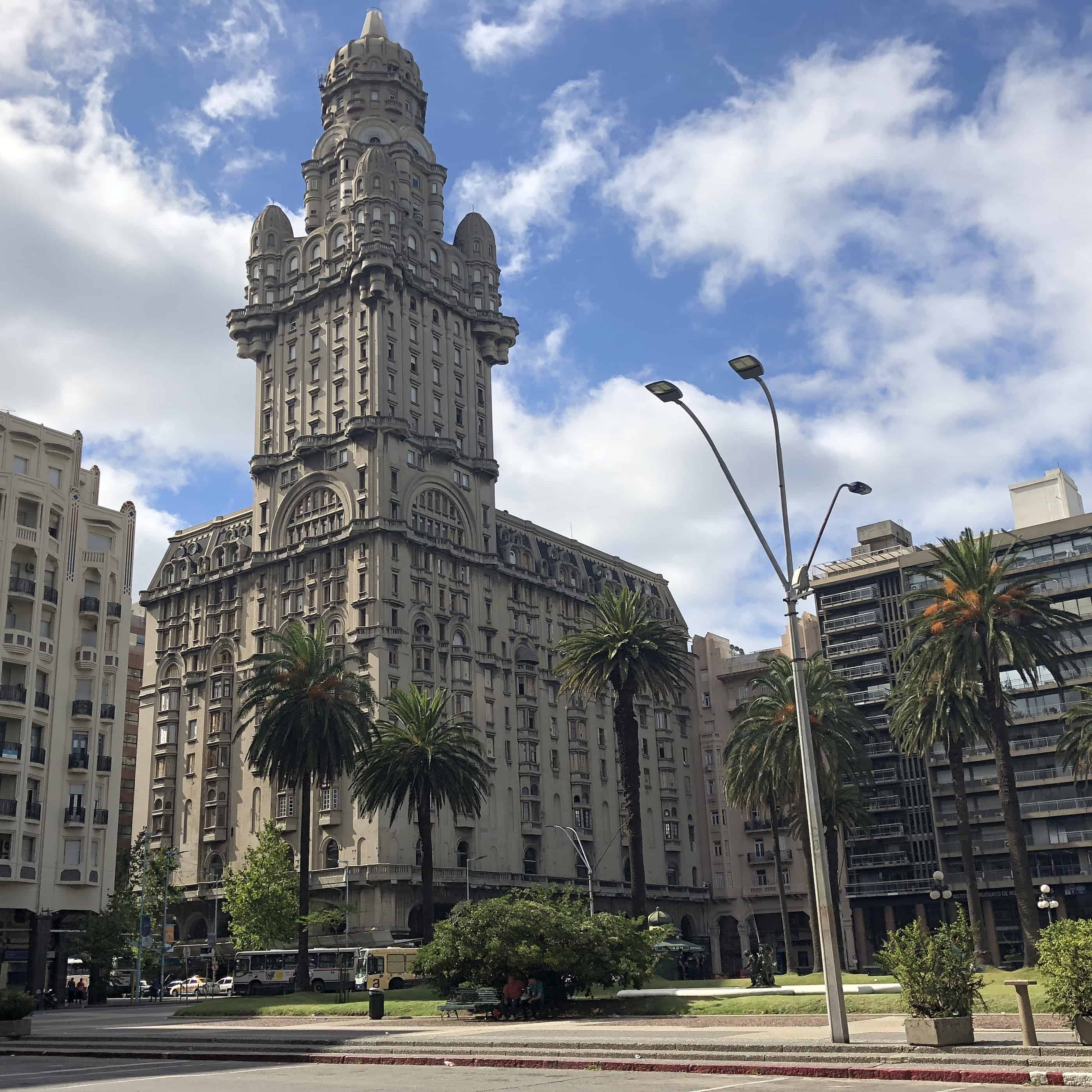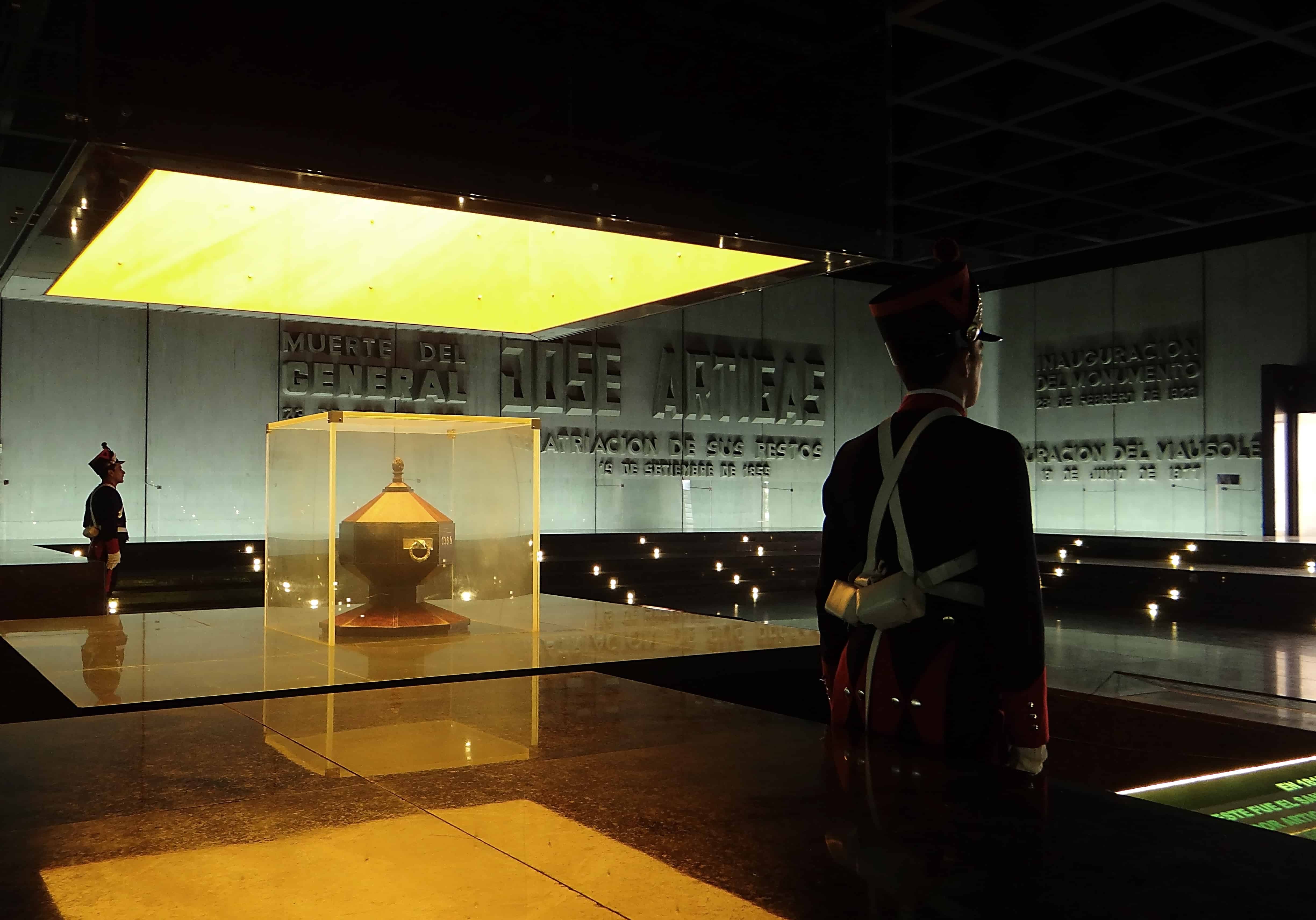 Montevideo's most attractive tourist area is the Ciudad Vieja or old city, which is reminiscent of Old Havana complete with crumbling facades and similar architecture. The old part of the city is surrounded by the Rio de la Plata (technically a river but more like the ocean) and we briefly walked along the boardwalk by the water – which can definitely be likened to Havana's Malecon. See my Havana, Cuba trip review here.
The city center and main areas were quaint, picturesque, and easy to walk around. The lack of street hustlers was refreshing. I actually don't mind them in general, but in many countries it can get bothersome after a while. However that definitely wasn't the case in Montevideo.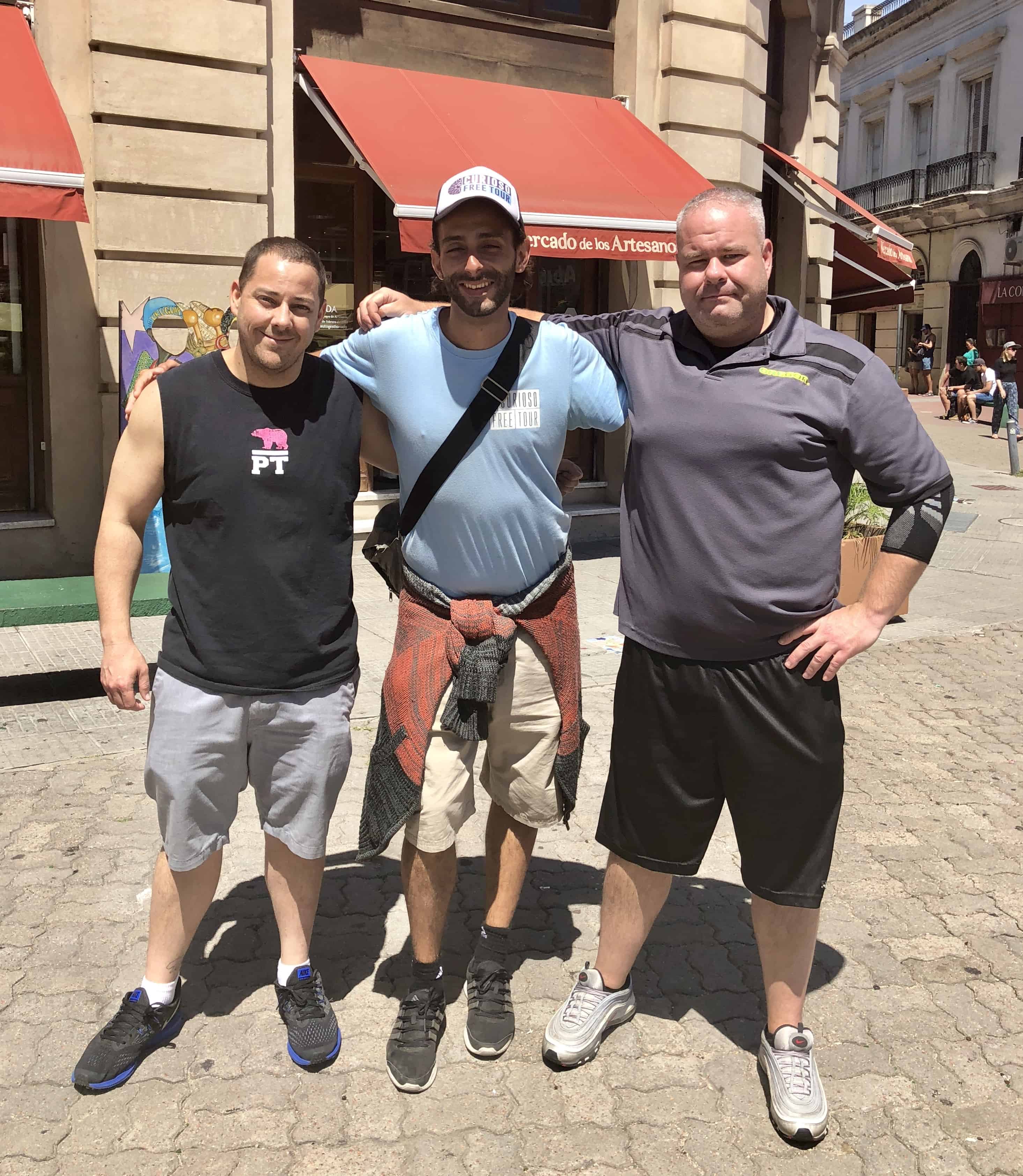 To our surprise, we found out that Uruguay and especially its capital of Montevideo is very progressive with a seemingly classless, egalitarian society.
Uruguay takes gender equality very seriously. Gay marriage, marijuana, and abortion are all legal here. It's also the most secular country in Latin America, and apparently most people don't much care about attending church (although there are of course plenty of Catholic churches). Impressive, Uruguay. Very impressive.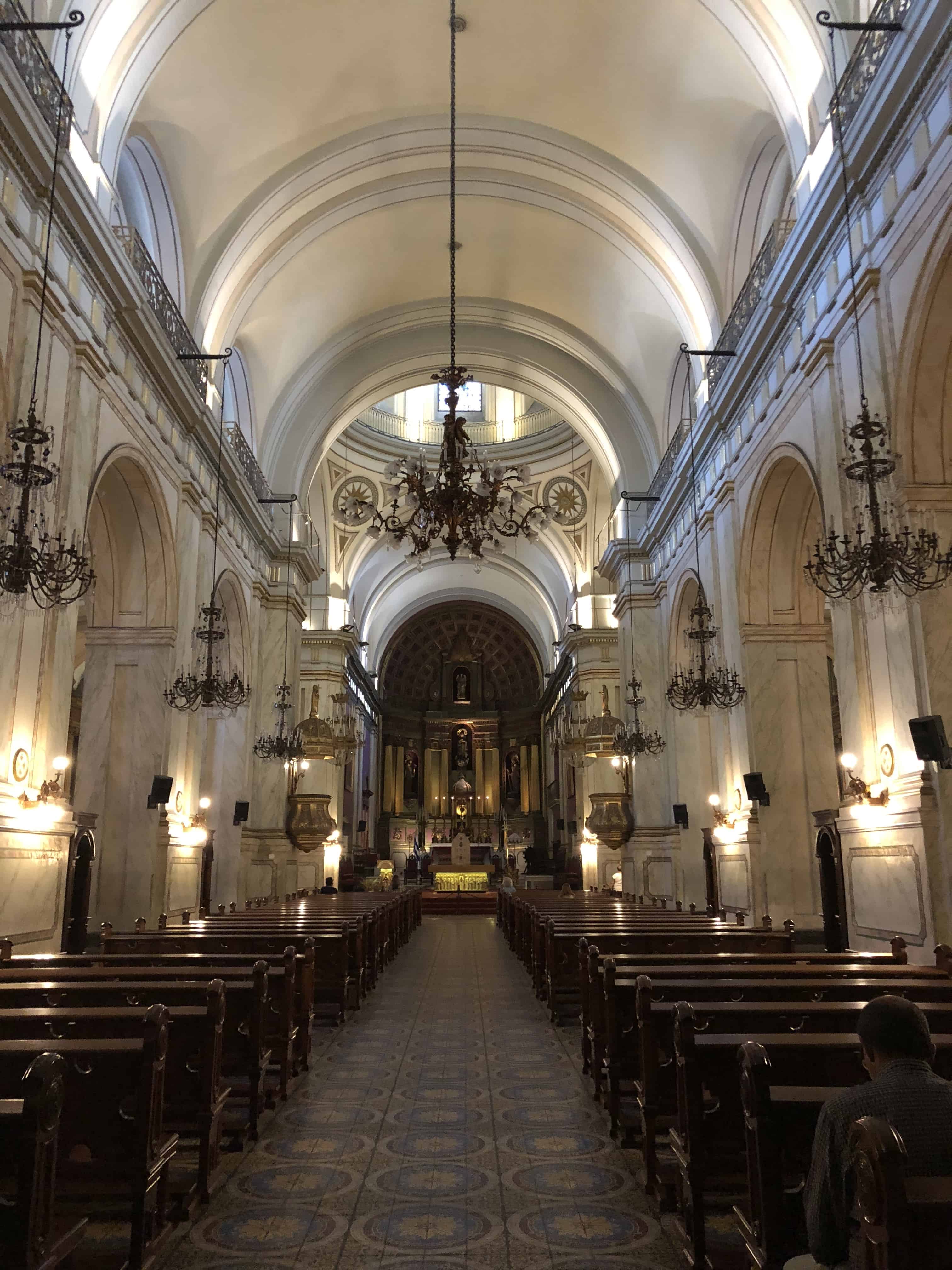 The politicians here are famously down to earth; as a case in point the previous president, José Mujica, who served from 2010 to 2015, is known for driving a battered old car and living very austerely, as well as donating 90 percent of his salary as president to Uruguay's poorest citizens. If you want more information, take a brief read of this article about the worlds most humble president.
On another random note: Sometimes you run across the most interesting small things that leave an impression. As I was sifting through pictures for this entry, I came across this little sign on a table at Cafe Brasilero where we stopped mid-day during the tour. The message was awesome: Sit back and enjoy the day and soak in all that life has to offer.
It definitely stuck with me, enough so to post it here. An alternate translation could be: "If you're really starving, ya might wanna think about somewhere else because it's gonna be a while" which is still amazing. Setting expectations is always good. 🙂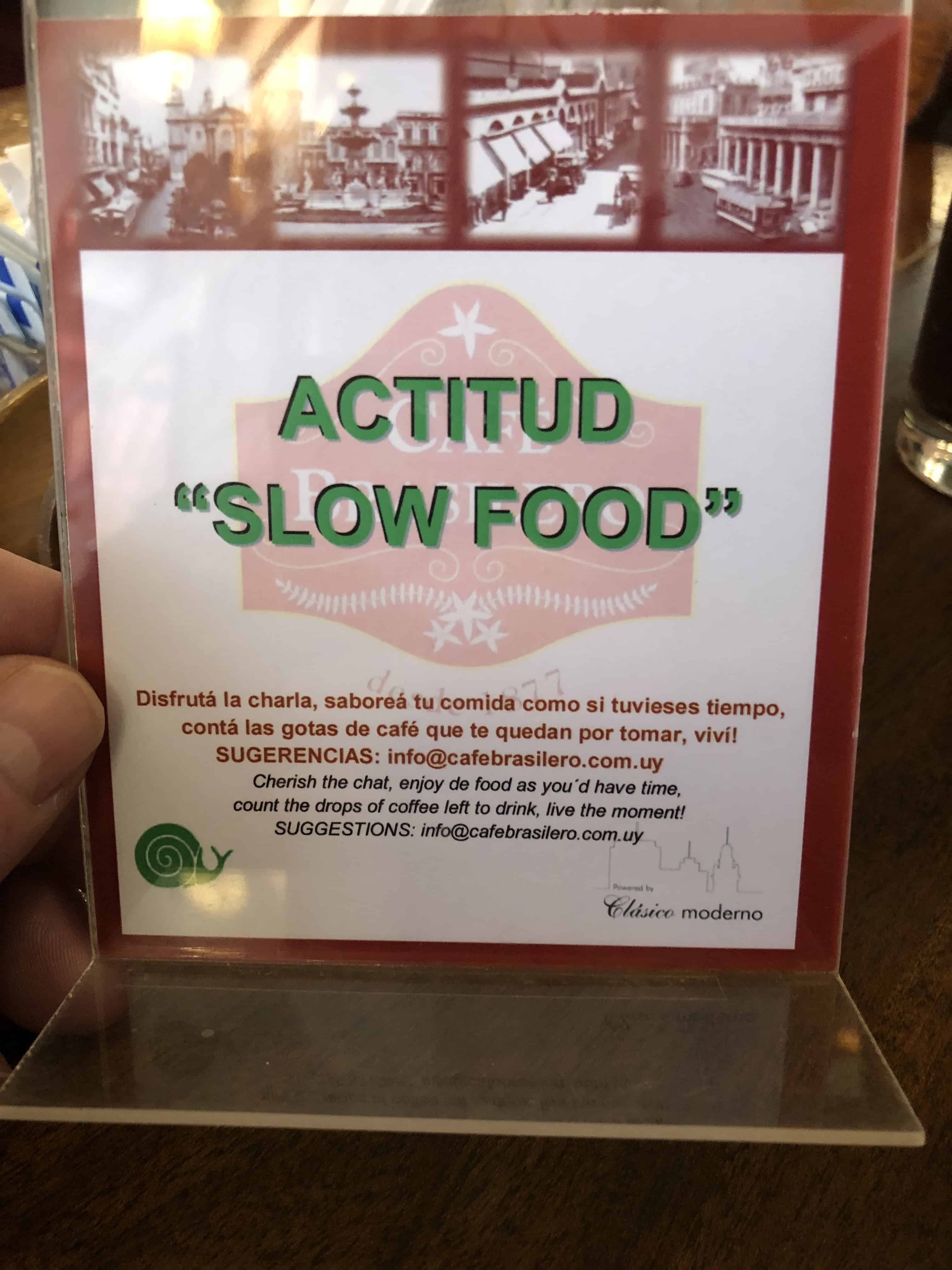 We finished the walking tour and decided to try to find a place to head out for the night. The goal was to grab some drinks at a few of the gay bars in another suburb on the other side of town. We hopped in an Uber and headed in that direction.
Sadly after [what seemed like] hours of walking around, the places we were specifically looking for eluded us. I think we expected a big sign outside or at least something noticeable like a rainbow flag somewhere, but we turned up empty handed. Can't say we didn't try though. Montevideo Bear Bars = 1. Mike & Jared = 0.
Rather than keep searching, we returned to the Radisson back at Plaza Independencia and called it a night. Overall the side trip was completely worth it. I learned a good amount about a new city and how phenomenal Uruguay is with their progressive stance on social issues. It was topped off with awesome company and a great guide.
Next morning we hopped the catamaran back to Buenos Aires, across the dark polluted and murky water, and met up with friends for the rest of this extended trip to the 7th continent. Keep reading for more.
Lesson Learned Jeopardy
Let's do Capital City Name Origins for $2,000, Alex:
"Named in the 16th century by Spaniards navigating Río de la Plata, this city was recorded on a map as the sixth observable mountain looking east to west from the river."
Question: What is Montevideo? Mountain (monte) number six (vi) from (de) east to west (este a oeste)

Enjoy the pictures!
#MikeRTW