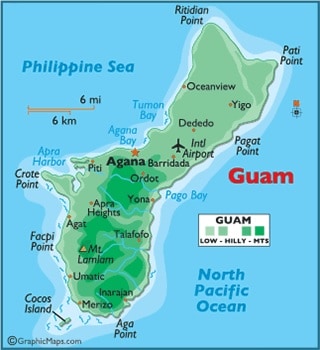 Upon arriving in Hagåtña, Guam from a 14 hour trip on the Island Hopper (United 154), I had about 36 hours free to explore this remote island. It's a small unincorporated United States territory that is home to about 160,000 people and kind of awesome.
While there is probably more to this place under the surface, you can easily see Guam as a tourist in a single day. There is one main road that runs most of the circumference of the island clocking in at approximately 35-40 miles long. I had read on TripAdvisor prior to arrival that it was more than enough for a leisurely drive, a nice stop for lunch somewhere, and plenty of time to take in about a half dozen sights along the way.
I'll admit I wasn't there long enough to see more than a few World War II relics from the battles in the Pacific. I'm sure the locals would disagree and show me a better time if I had longer to stay. As the western-most base of operations for the U.S. military, they have jurisdiction of about 30% of the island's area. This includes stations for all branches of the Army, Navy, Air Force, Marines, Coast Guard, and the Guam National Guard.
Because of that presence, much of the island's infrastructure supports it with entertainment venues, restaurants, shops, and malls. This causes a large influx of tourists from Japan, and it was very evident the entire time I was there.
More 900,000 Japanese tourists visit Guam every year, which is more than 70 percent of all the visitors of the island, according to the Guam's Visitors Bureau.
Make no mistake this is a good thing. For our Japanese friends, Guam is an easy way to get a nearby taste of "America" (our culture, our movies, our stores, our nightlife, etc.) without having to make their way across the entire ocean to Seattle, San Francisco, or Los Angeles. Instead, they can quickly jump down to Guam and get a similar experience. The distance from Tokyo to Guam is roughly the same as New York to Miami or Los Angeles to Dallas.
Since the weather was excellent as expected in a tropical island in the Pacific, I seized the opportunity and rented a convertible (Chrysler 200) to get a top-down view of the island while driving around it. Note to self: Next time make sure to wear sunscreen. An entire day in a convertible in the Pacific sun (it's strong!) was too much, and I got a bit more sunburned than expected. No matter, it was worth it for the spectacular scenery.
One of the last pictures was of the awesome sunset over the water as the day turned into night. Living on the east coast of the United States, I generally only see the sunrise over the water. While you may be able to catch an east coast ocean sunset on Fire Island in New York or Key West in Florida, I don't get to those places often. It's a treat whenever I am somewhere that it happens and it still mesmerizes me each time.
Guam: You get an A. Thank you. Enjoy the pictures!
#MikeRTW