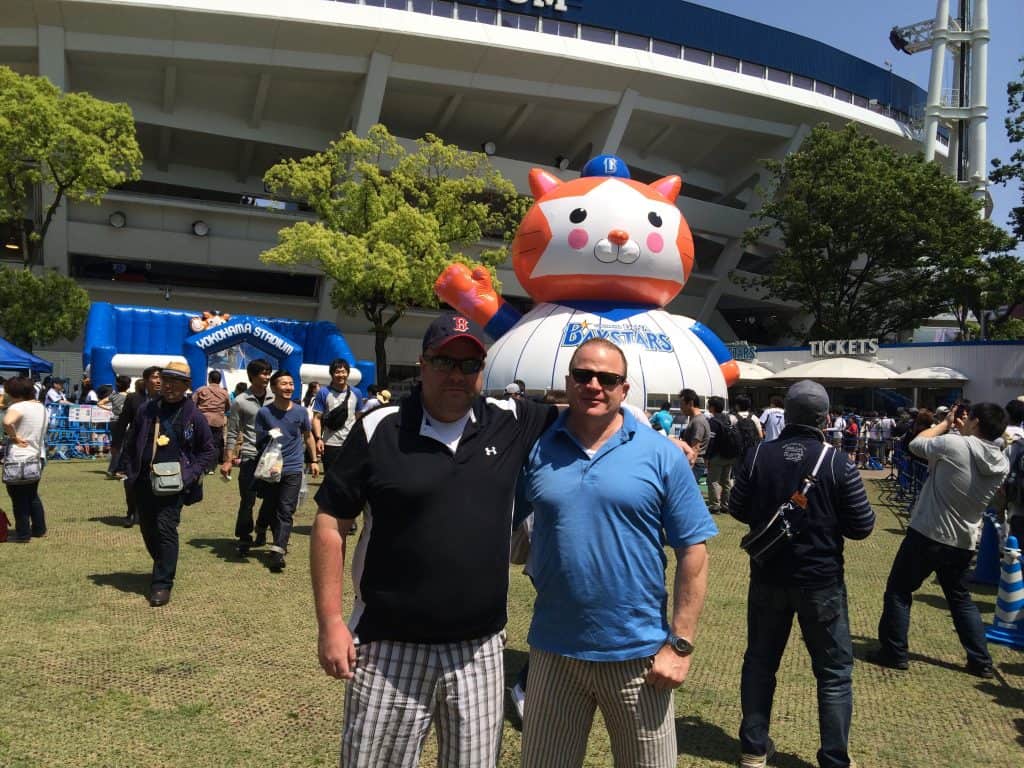 To any baseball fan in the United States, we all know the names Hideki Matsui, Ichiro Suzuki, and Hideo Nomo. Baseball is just as huge in Japan as it in the United States and it shows. My buddy Chris and I jumped at the chance to experience it with a local friend while visiting Tokyo in 2014.
Being a born and raised a Boston Red Sox fan, we all knew about the high profile signing of Dice-K (Daisuke Matsuzaka), leading pitcher for the Red Sox. I was actually at the first game he played at Fenway Park in Boston in 2007. Seeing all the print media, online media, television stations, and of course the scores of Japanese fans there fueled my intentions of seeing a game in action in Japan one day.
I knew baseball was big in Japan, and I knew recreational stuff in Japan always gets dialed up to 11 on the intensity and crazy meter, so I had to do it. Fast forward about a decade and I found myself in Tokyo, so…..
Getting the Swing of Japanese Baseball
The Japanese major league is actually quite similar to our Major League Baseball (MLB) system. They have their Nippon Professional Baseball (NPB) system across the country. It's pretty much the only place outside of the USA where baseball is such a big deal.
There are two teams in Tokyo, the Yokohama DeNA BayStars, and the Tokyo Yakult Swallows. Luckily for us, we had our timing planned out perfectly so that we could attend a game in the suburb of Yokohama to see the BayStars play.
Getting to the Game
I got in touch with a mutual friend, Tadaaki, who lives in Tokyo. Tad picked Chris and me up from our hotel and within 20 minutes, we were ready for some baseball. Tad had been generous to get our tickets sorted (he even got us some of the best seats in the house). This meant that all we had to do was to sit back and enjoy the spectacular game that was about to go down.
I have to admit that there were a few moments where I was a little confused as would be expected. In one case, I saw a guy holding up a big red sign, and I had no idea what it meant. Tadaaki had translated for me, and it read "Beware of Foul Balls." I guess the sign makes sense because there are no nets between the players and home plate like they do here in our stadiums.
Then there was that woman who had a quarter keg of beer on her back. She was selling it for 700Y, which is the equivalent of about $6. It was a pretty decent treat for us as any Fenway going Red Sox fan can explain. You can't get a beer served to you at your seat, and we charge like $11 each. Almost double the price.
Blending in With the Crowd
When we went to see the BayStars play. It was a perfect sunny Saturday afternoon, which in my mind was the reason for the large crowds. Apparently in Japan, the games are always a full-house as far as spectators go, which is probably why it wasn't a 'thing' for the locals. Seeing that the stadiums in Tokyo are about half the size of our regular ones in the States, it only makes sense to see such a huge draw of spectators.
In the midst of all those fans, I felt accomplished. While I honestly can't tell you who won the game, I do remember that the entire sum experience of it the game. Turning up the fun and crazy dial to 11 like everything else they do in Japan, was a complete blast. Seeing a Japanese baseball game go down was everything I had ever expected it to be. The experience of soaking it all up was the goal I had set for myself, and it was now in the bag.
Enjoy the pictures below!
#MikeRTW