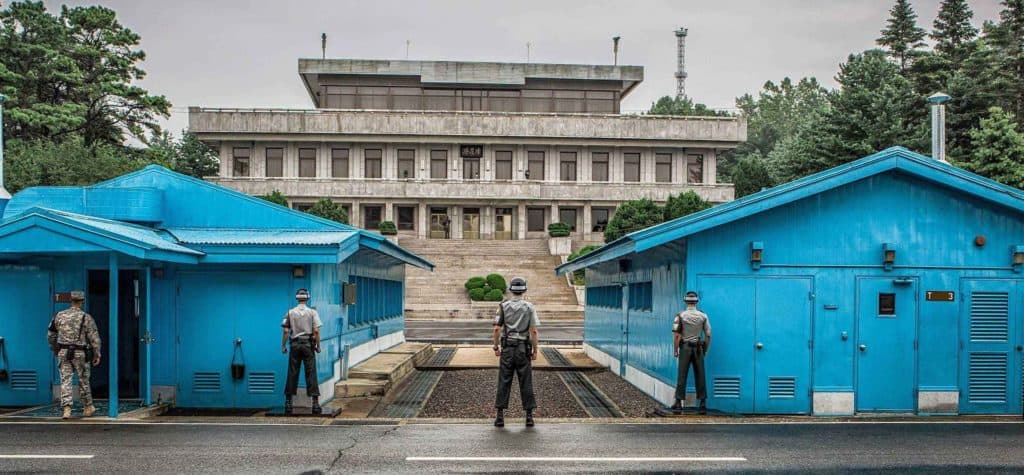 As sure as the rest of the world knows for a fact the sun rises and sets, the people in South Korea know for a fact that the North will invade one day. This would become very clear on my quick trip up to the most heavily fortified border on the planet.When I traveled to South Korea, I went there with a specific intent. I wanted to do a tour of the Korean Demilitarized Zone and the Joint Security Area (DMZ/JSA). I wanted to see for myself what it looked like. Why does it exist in the first place, and how is it supposed to protect the inhabitants of Seoul?
Some Humor before the Seriousness
As soon as I walked out of the international arrivals terminal, I was greeted by a brand new Dunkin Donuts.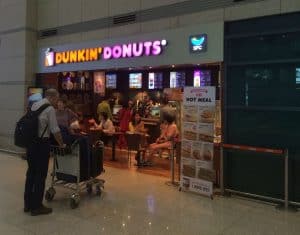 That was hilarious since Dunkin Donuts originated in Boston. Even though they're super popular, they haven't really ever made it across all parts of the States, let alone overseas.
I was surprised to learn that Dunkin Donuts was located at the airport to test out the Asian market. The franchise also had quite a few outlets located across Asia. To my surprise, I found another one in Seoul.
Finding a little unexpected slice of home on the other side of the planet? Not complaining.
Finding my Feet in Seoul
I used the subway to get around in Seoul. One of the things that really stuck with me was how clean it was. You could probably go ahead and eat your lunch off the floor. That's definitely not something I'd be able to do back home.
Aside from the cleanliness, I appreciated the efficiency of the subway system. It goes everywhere, and it's always on time. My exploration of Seoul was done mostly by foot. I took a day out of my itinerary and just wandered through the streets. Sure, I also did my fair share of street shopping and made my way through a variety of local markets.
On a side note here – have you ever seen pump handles hanging from the ceilings at a gas station? Me neither, well, at least not until I visited Seoul, but apparently that's just how they roll (or should I say hang?) over there.
The rest of my first day in Seoul was chilled out, and I didn't do much. I picked up a "Crazy" (Kraze) Burger for lunch, and for dinner, I enjoyed a traditional Korean BBQ meal.
Sightseeing Before Seeing the Site
Before we did out tour of the DMZ, I decided to see the N Seoul Tower, which is the highest point in Seoul. Being one of the largest metros in the world, it offers some of the most incredible 360-degree views. Once you get to the top of the N Seoul Tower, there are markers all over the windows so that you can calculate the distance home. I must admit, it was pretty cool to see.
After taking in the breathtaking views, it was time to secure my ticket to Panmunjom DMZ from the agency. As soon as I had those tickets in my hand, I went from excited to a little nervous at the drop of a hat.
Getting to the DMZ
In order to get to the Demilitarized Zone, we took a bus ride up to the border. It was a ride of about 70 miles or so. There's a point along the route where regular people aren't allowed to pass (demarcated with barbed wire), along with some memorials and a bullet hole filled train.
After we had our invitations from UNCMAC to cross the line in hand, it was time to get down to business. After they searched us, we boarded the bus to Camp Bonifas. Finally, we were halfway into the DMZ.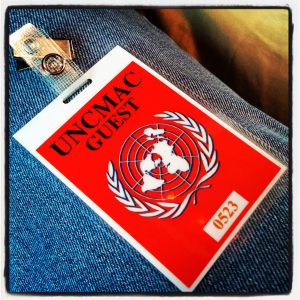 Upon arriving at the DMZ, we signed our lives away. Indemnity forms are necessary precautionary measures here, I suppose. In all seriousness, this is one of the most actively patrolled borders in the world. It wasn't too long ago (November 2017; which is when I put this post together) that some random guy ran across the Southside near the blue huts and was shot five times by the North. Luckily he made it out alive. That's just what they do in order to deter people from trying. But I digress.
Being Part of an Entourage
Look, you don't just go walking around the DMZ by yourself unless of course, you have a death wish. We had PFC Martinez, from Brooklyn NYC, as our guide, just to keep us safe while we were undergoing the tour. Wherever he went, we followed. His gestures predetermined our actions. If he didn't OKAY a move or a photo, we didn't do it.
Along with our guide, we got to enter the blue rooms, which is where the actual border between the North and the South is. Technically, we had the opportunity of standing inside of North Korea. As you can see from the photos, the picture of the sand outside the window is where I was standing, which is in the north, and the other side, where the rocks and gravel are, is in the South. To bump up the serious atmosphere, I took a little selfie with the door guard, at least that's one keepsake I got to take with me.
Keeping Myself in Check
But back to a more serious matter here: If I stepped outside of the door behind the door guard, somebody would have shot me as soon as I opened that door. The atmosphere inside of that building is so intense; you could cut it with a knife!
I'm just thankful that we had the opportunity of entering the blue buildings. You see, the blue houses belong to the North and the South's, and their tour operators, and one thing's for sure: these guys don't share Google Calendars to schedule their tours.
If the North hosted a tour inside those buildings on the day we did our tour, they would have sent us all back home. It's a chance you have to take, but luckily for us, it all worked out perfectly.
Life Lesson Learned
I travel to really learn one huge genuine thing about each separate area I visit. This time it was how serious the South is about the North invading one day.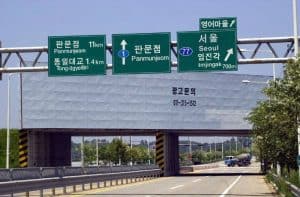 See the picture in the box next to this text? The one of the highway and the overpass? Tap it or click it to open it larger and stare at it for ten seconds.
What might appear to be an overpass to nowhere, a solid piece of concrete, is actually Seoul's defense against the North. All across Seoul, these pieces of concrete can be found over bridges, train tracks, roads, and access points between Pyongyang and Seoul. Those slabs of concrete actually have dynamite mounted to their bases. The act as bombs, activated by what I imagine is one single red button in some control center in Seoul. As soon as somebody pushes that button, the concrete will collapse, which will then purposefully destroy all access points into Seoul. The hope (and the aim) of this process is to slow down the North Korean military when an invasion happens.
An Uncertain Future
Tonight, tomorrow night and the night after that, 25 million Seoul inhabitants have to go to bed, uncertain of what their tomorrows might look like. All of this because of leaders that cannot come to create a recipe for peace.
The truth is that North Korea has more missiles aimed at Seoul than the USA has fast food joints. We don't care about South Korea. We don't care about their struggles. Why? Well, it might be because the media is always arming us with blindfolds. Are they purposely misleading us and keeping us uninformed?. I don't know about you, but I don't think I'd feel safe living inside the borders of Seoul, protected by 80 concrete bridges, all fitted with dynamite at their bases.
Go ahead and ponder that thought for a moment. Enjoy the pictures!
#MikeRTW