An African Safari was high up on the travel bucket list, but I didn't think it would happen this soon. Traveling to South Africa's Kruger National Park as a random "click-and-go" experience wasn't expected either, but that's exactly what happened one random morning.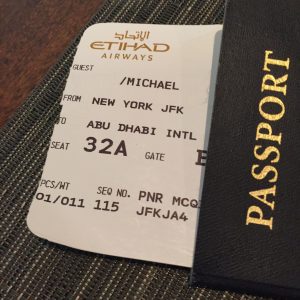 Scene: Christmas Morning at 6:00 AM in 2013. Right after waking up, I quickly logged onto my PC to check some email and a notification from MileValue.com caught my eye. The fare was very specific: New York to Abu Dhabi to Johannesburg – Etihad Airways – Round trip including all taxes and fees for $283. Yeah. You read that right. $283 USD. I didn't give it another thought. *click * click * click * done.
Acting on an Impulse
Fares like this are extremely rare, and you have to act quickly before the website realizes that there is an error. I weighed out the pros and cons in that short moment. I figured that I'd take the chance, spend $283 and be that much closer to an African safari than I've ever been before.
Although I had absolutely no plans, hotel, time off work or even an idea of what was required (did I need any vaccinations? what about a travel visa? was there enough time?), I snatched the opportunity. Kruger national park would be seeing me soon. The fare was just too cheap to pass up. If I ended up not being able to go, I only wasted $283. Not bad at all.
I had about a month to plan so I began asking friends to see if any of them could join me. Not a single person could go. It was way too last minute for anyone to get time off work and besides the flights were back to normal price — over $2,000. At this point, I could've canceled. I had never been on a trip completely alone to an unknown country but life is short and why not try and make an experience of the deal, right?
The Journey Begins
I bought myself a cheap JetBlue flight from Boston to JFK to begin the trip. I had also heard and read amazing things about the Kruger National Park, so I grabbed a South African Airways ticket from Johannesburg to the Kruger National Park and back under a hundred bucks. It was still nowhere near the price I would've paid for an error-free airfare from the USA to South Africa.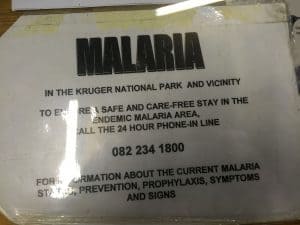 Before leaving, there were a few critical things I had to do. You're required and/or recommended to be given a variety of shots for prevention. One was for Yellow Fever and another for Typhoid. They also suggest shots for Hepatitis A and B, but I already had those. On top of these, you should take Malaria pills. You begin 10 days before your departure and continue to take them for 4 weeks after your return.
Once I arrived in Johannesburg, I stayed for only one night although I did a little exploring in that time. Headed over to Nelson Mandela Square and saw the immense Mandela statue. Then simply decided to have dinner at a cafe nearby.
Heading out to the Kruger National Park
The next morning my flight departed out to the Kruger National Park from Johannesburg. There were people from all over the world on that plane. Although I was flying solo, it was awesome to see so many people on their way to a real adventure. The flight from JNB to MQP (Kruger Mpumalanga Airport) was a short one hour.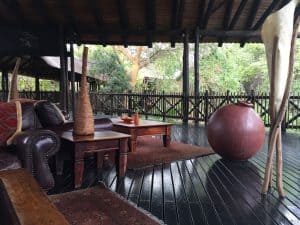 Upon arrival, the drive from there to the park was two hours. The ride, from what I can recall, was very comfortable. The driver made these trips often, and he spoke about his country, the infrastructure improvements they're making all around like internet, water, and the increased tourism. He was very proud to "show off" and spoke highly about the more rural areas in South Africa outside of Johannesburg, Pretoria and Cape Town.
The Deal With Power Outages
Once we arrived at the hotel, Protea Hotel Kruger Gate, I went directly to check in. While there, the person behind the desk handed me two candles and some matches. I took them, confused, and had questions about why but kept quiet. That had never happened before. Candles??
I entered my room, settled in and – BOOM. Power went out. I looked over at my dresser and immediately realized what the candles and matches were for and lit one up. After about 20 minutes, the power was back on. This would happen four more times during my three-day trip there. Note to self: Don't take the power grid for granted.
Nighttime Safari
Now, for anyone who knows anything about Kruger National Park and the Protea Hotel Kruger Gate, would know that this hotel is located in the woods right next to the Kruger Park entrance. After getting settled into my room, I decided to take a quick night safari.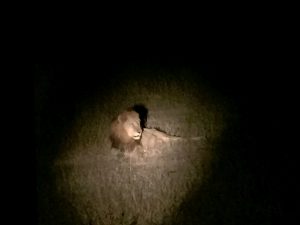 The sun was just about to go down, and it was peak time in the animal kingdom. This safari was only 3 hours long, but if you choose to, there are much longer tours as well.
Why a night safari? Well, even though it may seem like trying to see animals at night would be difficult, it's actually the ideal time to see them in their most natural form. As the sun goes down, the African plains begin to come to life. The incredible heat during the day exhausts the animals, so once it starts to cool down, it's prime time for feeding.
I was lucky enough to see a lion pride, hyenas cackling as they plotted their thievery for the night and cheetahs on the hunt. At one point, the Ranger shined an enormous spotlight right in a lion's face. I asked the ranger, "Doesn't that make them mad? If that were me, I'd be pissed off if you were shining that bright light on me." He replied, "Oh she's used to it."
After the night safari was over, I decided to get to bed. There was no internet so I flicked on the television and caught some BBC World News as usual. It's my go to fall asleep channel whenever overseas.
Daytime Safari
The next morning, I got up and was on my way to an early morning safari. The group I was with was from all over. Australia, Germany, Canada, and Russia. It was an excellent mix of people, which I really enjoyed.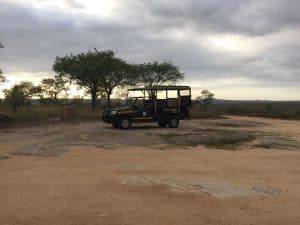 The sunrise that morning was spectacular. One of those dreamlike moments that you attempt to put into words or try to capture into photos, but they just don't do justice. This daytime safari was everything you would expect a safari to be; crisp morning air, unexpected animals at every corner, and lots of great stops filled with tons of valuable information straight from the Rangers' mouth.
We spotted a couple of vultures in the treetops. They sit up there waiting for an animal to be killed. As soon as the lions are finished eating, the vultures fly down and eat the remaining carcass. I learned first hand what the term "vultures" actually meant. Now it all makes sense.
From all of the National Geographic videos out there, you would have thought that the lions or the hippos would've been the ones to go "wild" on us, but it was actually the most docile animal of all, the elephant, who charged. This just goes to show that mothers will do anything to protect their young.
The driver turned off the engine and let the car roll downhill. We got a little too close to the group. Immediately the mother elephant turned around and stared us down. She was literally in charging position. I can't say I wasn't a little scared. Even the driver realized he was too close and backed up the truck a little. It was definitely a close call.
Rangers, Poachers, and Visitors
The rangers were immensely helpful in explaining some of the more complex issues around the park. For example, we all know elephant poaching is a huge problem but we don't realize how big.
Ivory tusks fetch from $30,000 to $40,000 each in the black markets in other African countries. Hoards of people, daily, cross the borders into South Africa to kill elephants because to many, that sum is like winning the lottery. The South African government has a tremendous problem dealing with it, but they do the best they can. In fact, the USA provides tens of millions of dollars annually to help with drone programs and other preventative measures, like tracking and tagging elephants.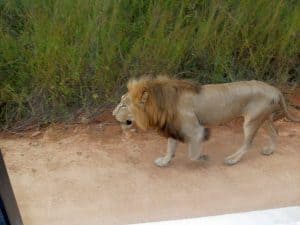 Yes, the rangers carry their rifles to shoot and kill poachers. It's certainly not taken lightly here. They are there to protect the animals at all costs.
The ranger also explained to us that they've been doing the car tours for many, many decades now. There are 3-4 generations of animals that are entirely used to cars being nearby, the engine noise and of course, people. They know we aren't a threat to them, so they leave us alone in return. It's kinda neat – the babies, parents, even grandparents are all used to people because they've seen them every day since their birth. Makes total sense, right?
Time for me to stop rambling. Enjoy the pictures!
#MikeRTW