Located on the Mediterranean Coast about 35km southwest of Barcelona, Sitges is one of the premier European gay destinations and home to the annual Sitges Bear Week. Think: Provincetown in Europe. The goal was simple: meet up with dozens of old friends and to connect with hundreds of new ones for a week.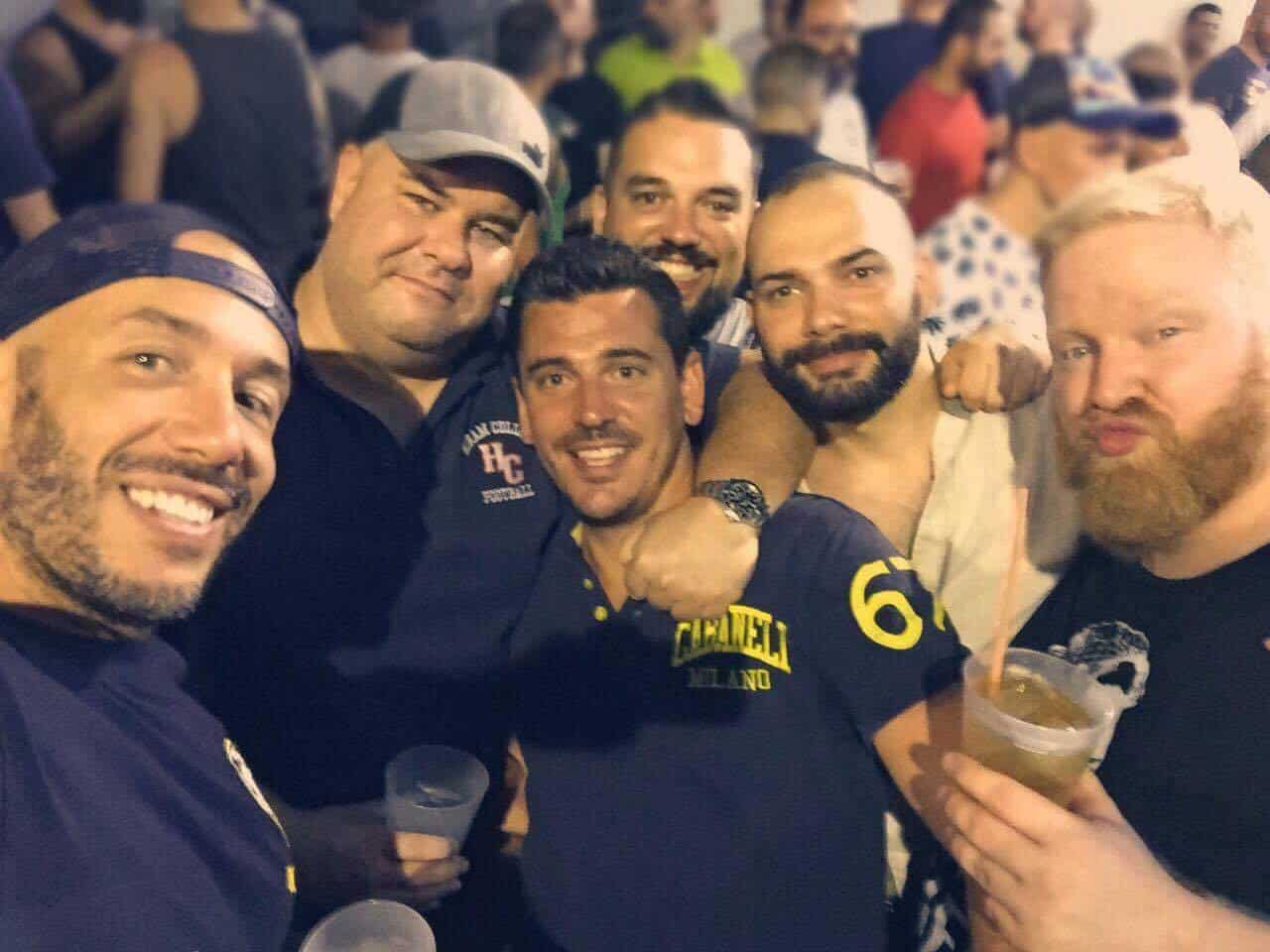 Traveling from Boston to Sitges

I flew from Boston to Barcelona via Lisbon on TAP Portugal in September 2016. Its one of the great new airline additions to Boston recently. This was my first time flying with TAP Portugal. Luckily I had heard (thanks to some of the great travel blogs out there) that you had to ask at the ticket counter about upgrades.
Apparently, the airline only offers upgrades to passengers who ask about it at the ticket counter. They don't sell them in advance online and don't offer them voluntarily. The reward: $299 upgrade to business class – with a flatbed – which they offered when I asked. I was SOLD. The upgrade from economy to business class would have easily cost anyone $2,000-$3,000 if they were flying with the likes of British Airways, Air France, or Lufthansa. After a quick connecting flight in Lisbon, I arrived in Barcelona, ready for the party.
Passport. Where's my passport?

Everybody knows the number one cardinal rule of traveling: DO NOT LOSE YOUR PASSPORT. In my case, just don't get pick-pocketed!
The truth is that I was well aware of Europe's pick-pocketing problem in some of the major cities. It's a problem we don't really have in the United States and I knew all about it. I had been careless at the wrong time, in the wrong place and this was all my fault.
Side Note: When traveling, I always carry two wallets. One of them is my regular small wallet which is the same one I use at home. It has my driver's license, credit cards, and minimal amounts of cash. The other is my portfolio/travel wallet, which is where my passport resides along with a bunch of other cards and emergency backup cash. I always store and keep my large wallet in the hotel safe, which acts as a backup in case my small wallet gets lost or stolen or — pick pocketed. But this time, it would be the other way around, a scenario I had never anticipated.
Instead of keeping my backpack carefully guarded, I had set it down on a bench and left it unattended. I took my small wallet to walk 50 feet over to fiddle with the train ticket machine and get tickets for the short ride south from Barcelona to Sitges. What could have been no more than five or seven minutes, I got back to my backpack. I didn't notice anything odd, so I proceeded to board the train to Sitges. Shortly after getting to my destination where I was staying in Sitges, I reached into my backpack to take out the travel wallet as I had done dozens of times in the past. Nothing was there. My heart was racing, my breathing got a little more intense, and I started sweating.
Unable To Change Reality
After a short panic, I realized that there was nothing I could do about the situation. In an effort to calm my nerves, I headed out for dinner and drinks with my friends. I immediately realized it was swiped when I left my pack unattended on the bench back in Barcelona. Rather than run around frantically, I decided to continue to get settled and head out for the evening festivities rather than try and change a situation I couldn't control. In my mind, I had already decided that I would deal with the U.S. Consulate General in Barcelona, and the long process for applying for a new passport, in the morning.
The night went well, and I had a blast.To my surprise, I woke up in the morning with a voicemail from the police station in North West Barcelona. I can do what I call "about 60-70% Spanish" and reckon that I can converse solidly as far as general details, directions, and conversations as a tourist. Not bad but not completely fluent either. What I remember was hearing the words "Passaporte" in the first sentence of the voicemail and the rest was a blur. Immediately, I knew I needed expert help.
My course of actions was simple: I texted a friend of mine who was in town and who is also a native Spanish speaker. I knew I needed him to fill in the blanks where my level of Spanish could not. Especially since my head was all over the place and I was in a slight panic. He called the police station in a bid to try and figure out what was going on. All I knew was I got a phone call from the policía about a passaporte and I needed all the details STAT.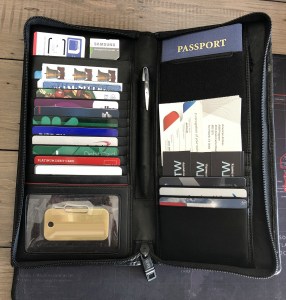 After 15 minutes of waiting and wondering, he called me back. "They have your passport at the station, and it's located at this address. They're holding on to it, waiting for you, and I told them that you would be there later today to get it."
Passport Secure
I suppose the police got my info on my travel wallet because I always keep my details (like name, home city, phone number, etc.) printed inside it. I was kind of baffled on how my belongings had ended up in North West Barcelona since I had never been near it; Sitges, the airport, and the train station are all located towards the south of the city, but I was elated nonetheless.
Time to jump on the train back to Barcelona. When I got to the police station, my passport was safe and sound inside my large travel wallet. I almost instinctively knew this, but when I opened the wallet, all the cash (my main stash) inside was gone. I remember asking the policeman "Sin dinero, eh?" – which translates to "No money, huh?" He chuckled at me. I didn't care much. At least I had my passport back.
Finally Time To Relax

I rented a house with five other guys, two couples, and one other single guy. The great thing was that we all knew each other from back home at various points. Over the course of the week, I ran into roughly twenty or thirty guys I knew. It was awesome to just catch up on life and have fun being around each other.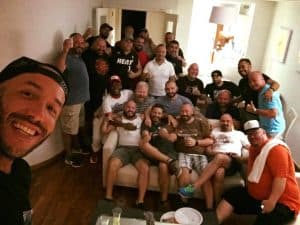 We spent most of our days hanging out at "judgment square," which is located in the center of Sitges. The square sees two roads come together to form an X. The area surrounding the cross is crammed full of café's as well as tables and chairs facing the streets. What did we do there? Watched the world go by, that's what. We did a lot of people watching and laughing, and looking back; it was pretty much the highlight of our late afternoons and evenings.
When we weren't hanging out at judgment square, we spent our time at the beaches or just strolling through town. Sitges has quite a few wonderful shops, which was where I bought a couple souvenirs to take back home. When the sun started to set, you could feel the vibe changing in Sitges as everyone got ready to party. Parties in Sitges didn't start early, which obviously meant that we had to find something to occupy our time with. We met two guys from France who had a nice rental place with an outdoor deck area overlooking the Mediterranean. With the balcony and the perfect atmosphere, those guys hosted pre-parties most nights before we headed out to the real events.
I remember a LOT of late nights. Man I always tend to forget those Europeans and their idea of not going out until 11 PM or midnight! I don't think I will ever get used to it, and while staying out all night takes a lot, it was a pretty memorable experience regardless of how tiring it could be at times.
There is so much more to the charming and eclectic coastal town of Sitges than I'll ever be able to put down in words. It was cute and captivating during the days and nights. Like I mentioned before, many of these posts before late-2017 are written from memory, so I don't have a detailed rundown of the week. But it was filled with fun times and good friends.
Enjoy the pictures!
#MikeRTW